By Wealth Trust Securities

In secondary bond markets, aggravated selling interest by foreign and local market participants saw yields increase further yesterday, mainly on the short end to the belly end of the curve.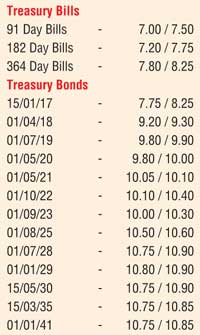 Firstly it was the very short durations of April and August 2016 that saw its yields increase to intraday highs of 7.75% and 7.90% respectively followed by the three 2018s (i.e. 1 April 2018, 15 July 2018 and 15 August 2018) to highs of 9.25%, 9.30% and 9.35% respectively, the two 2019s (i.e. 1 July 2019 and 15 September 2019) to 9.84% and 9.85% respectively and the two 2021s (1 May 2021 and 1 August 2021) to highs of 10.06% and 10.00% respectively on the back of considerable volumes changing hands. In addition, the 1 August 2025 maturity saw trades take place within the range of 10.45% to 10.55% as well.

However surprisingly, continued buying interest on the long end of the yield curve by selected parties and related parties saw yields on the 2028, 2029, 2030, 2035 and 2041 remain steady against its previous days closings to change hands within the range of 10.80% to 10.85% for a third consecutive day. This has led to an aggressive flattening of the yield curve over the past few days.

Meanwhile in money markets yesterday, overnight call money and repo rates decreased marginally to average 6.88% and 6.72% respectively as surplus liquidity in the system stood at a high of Rs.56.97 billion.

Rupee dips marginally once again

The USD/LKR rate on spot contracts was seen dipping to 144.00/20 against its previous day's closing of 143.90/00 on the back of foreign selling in Rupee bonds and a slowdown in inward remittances. Given are some forward USD/LKR rates that prevailed in the market: one month – 144.75/90; three months – 145.75/00; six months – 147.75/90.