Secondary market bond yields hit seven week lows
Foreign holding in rupee bonds dips further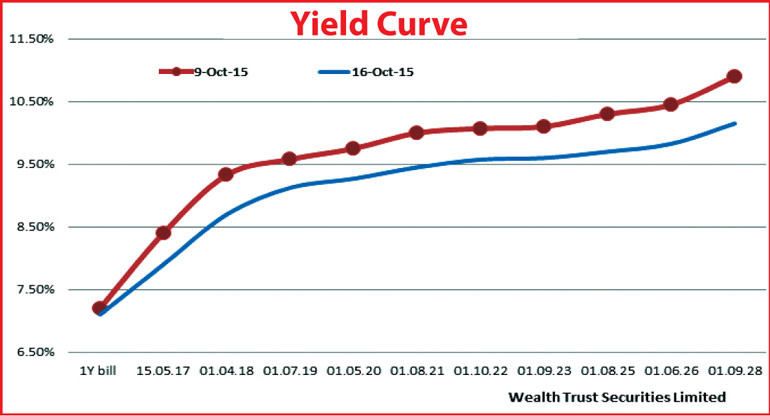 By Wealth Trust Securities

The secondary bond market witnessed a week of heavy trading as yields were seen dipping across the yield curve to reflect a parallel shift downwards on the back of considerable buying interest from local market participants.

Yields were seen dipping to seven week lows, with the long end of the curve reflecting the sharpest drop week on week. The 10 year maturity of 01.08.2025, the eleven year maturity of 01.06.2026, the 13 year maturity of 01.09.2028 and the fifteen year maturity of 15.05.2030 was seen dipping as much as 60 basis points (bp), 62 bp, 75 bp and 65 bp respectively week on week subsequent to striking seven week lows of 9.40% 9.80%, 10.05% and 10.20%.

In addition, the short end to the belly end of the curve saw yields on the 15.07.2017dip by 65 bp, the two 2018's (i.e. 01.04.2018 and 15.11.2018) dip by 62 bp, the two 2019's (i.e. 01.07.19 and 15.09.19) dip by 46 bp, the 01.05.2020 by 48 bp, the two 2021's (i.e. 01.05.2021 and 01.08.2021) by 55 bp, the 01.10.2022 by 49 bp and the 01.09.2023 by 50 bp subsequent to striking seven week lows of 7.95% 8.65%, 8.75%, 8.90% each, 9.05%, 9.20% each, 9.35% and 9.35% respectively.

The downward trend was further supported by the outcome of the weekly Treasury bill auction at where weighted averages decreased for the first time in 17 weeks.

Meanwhile, the foreign holding in rupee denominated bonds was seen dipping by a further Rs. 12.50 billion during the week to Rs. 309.07 billion, a level last seen in February 2012.

A similar downward trend was witnessed in money market during the week ending 16th October, as overnight repo rates decreased to average 6.34% for the week against its previous week's average of 6.49% as surplus liquidity increased to average Rs. 59.72 billion. However, the call money average remained steady at 6.36%.

Rupee losses ground during the week

The USD/LKR rate on spot contracts was seen depreciating during the week to close the week at Rs. 140.90/00 in comparison to its previous weeks closing levels of Rs. 140.30/35 subsequent to hitting a weekly low of Rs. 141.00 on the back of continued importer demand and foreign selling in Rupee bonds. The daily average USD/LKR traded volumes for the first four days of the week stood at $ 91.51 million.

Some of the forward dollar rates that prevailed in the market were one month – 141.20/30; three months – 142.65/75 and six months – 144.30/50.