10 year bond yield hits 12.00% for the first time in six weeks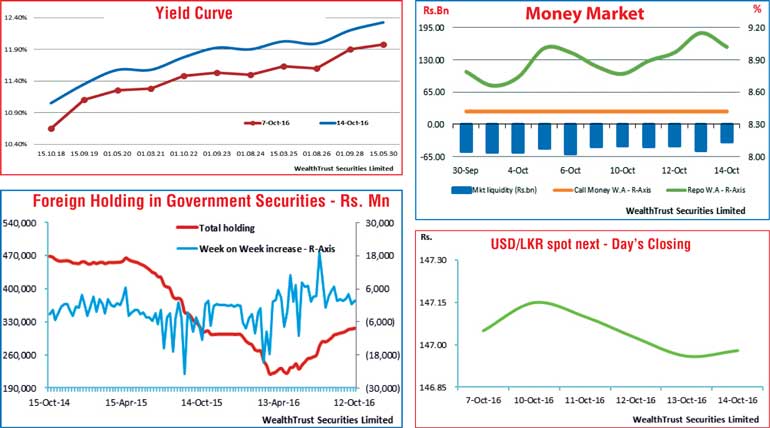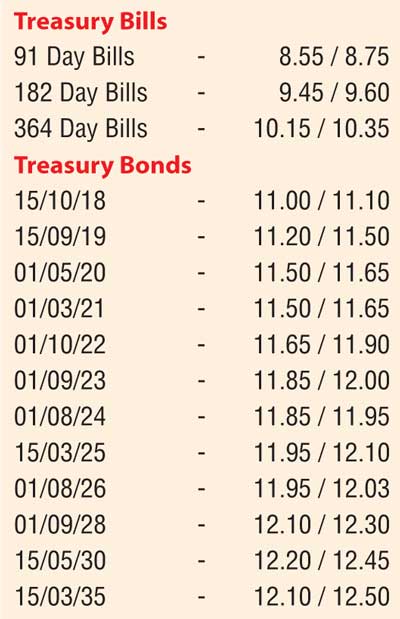 By Wealth Trust Securities

The secondary market bond yields increased across the board for a second consecutive week on the back of local selling interest amidst the prevailing uncertainties. Yields on the liquid 2026 maturities (i.e.01.06.26 and 01.08.26) were seen hitting the psychological level of 12.00% once again for the first time since the 01st of September 2016.

In addition, yields on the maturities of 15.10.18, 01.03.21 and 01.08.24 were seen hitting highs of 11.10%, 11.50% and 11.90% respectively against its previous weeks closing levels of 10.60/70, 11.25/30 and 11.45/55 which led to a parallel shift upwards of the overall yield curve for a second consecutive week.

Nevertheless foreign buying of Rupee bonds which has been prevalent over the past nine weeks, continued with an inflow of Rs.1.6 billion for the week ending 12th October 2016.

In money markets, despite the average net liquidity shortfall in the system decreasing to Rs.44.25 during the week ending 14th October against its previous week's average net shortfall of Rs.53.15 billion, the overnight Repo rate increased further during the week to average 8.96% against its previous week's average of 8.84%. However, the overnight call money rate remained stagnant at 8.42% throughout the week.

The Open Market Operations (OMO) Department of the Central Bank of Sri Lanka continued to infuse liquidity by way of overnight Reverse repo auctions at weighted averages of 8.49% to 8.50%.

Rupee closes the week mostly unchanged

The USD/LKR rate on spot next contacts dipped to an intraweek low of Rs.147.35 during the week before bouncing back to close the week mostly unchanged at Rs.146.93/03. The spot contract closed the week at Rs.146.90/95. The daily USD/LKR average traded volume for the first four days of the week stood at US $ 74.36 million.

Some of the forward dollar rates that prevailed in the market were 1 Month - 147.75/90; 3 Months - 149.35/55 and 6 Months - 151.80/00.