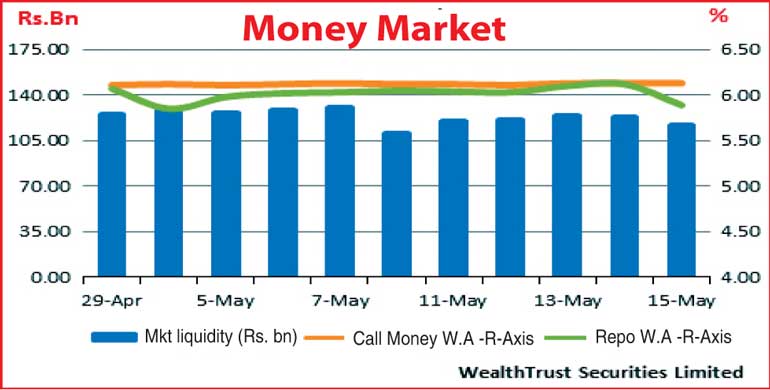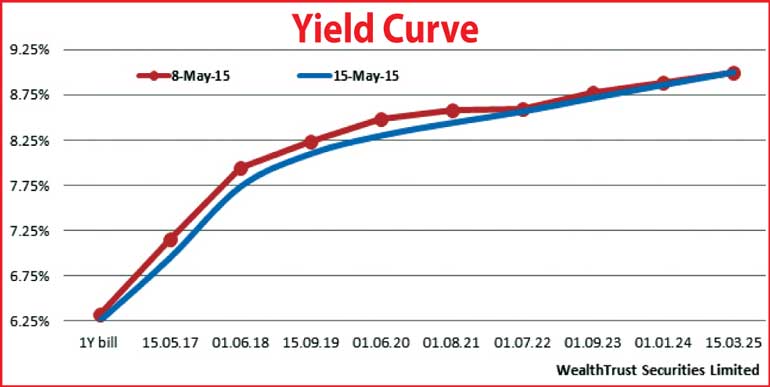 By Wealth Trust Securities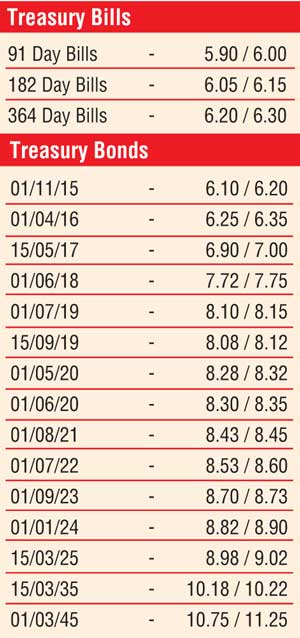 The secondary bond market yield curve continued to steepen during the week ending 15 May, as yields on the shorter leg of the curve continued to plunge while long tenure yields remained broadly steady. Primary market weighted averages at the weekly auction continued to slide, to dip to an 11 week low while secondary market bond yields on the two year maturity of 15.05.2017, the three year maturity of 01.06.2018, the four year maturity of 15.09.2019, the five year maturity of 01.05.2020 and the six year maturity of 01.08.2021 were seen dipping week on week by 25 basis points (bp), 23 bp and 13 bp each respectively to hit weekly lows 6.90%, 7.70%, 8.04%, 8.28% and 8.41%.

However yields on the seven year maturity of 01.07.2022, the eight year maturity of 01.09.2023, the 10 year maturity of 15.03.2025 and the 20 year maturity of 15.03.2035 was seen closing the week broadly steady against its previous weeks closings subsequent to hitting weekly lows of 8.50%, 8.68%, 8.94% and 10.21%. Meanwhile, continued buying interest on secondary market bills saw July and November 2015 bills change hands within the range of 5.85% to 6.00% and 6.10% to 6.18% respectively post auction.

In money markets, the average surplus liquidity of Rs. 120.81 billion saw overnight call money and repo rates remain steady during the week ending 15 May to average 6.12% and 6.04% respectively.

Rupee continues

to fluctuate during

the week

In Forex markets, importer demand during the early part of the week saw the USD/LKR rate on spot contracts depreciate to Rs.133.50 before it appreciated once again to close the week at Rs.133.30 while the one month and two month forward contracts were seen closing the week at levels of Rs. 134.60/70 and Rs. 135.35/50 respectively. The daily average USD/LKR traded volume for the first four trading days of the week stood at $ 55.11 million.

Some of the forward dollar rates that prevailed in the market were 3 months – 136.20/60 and 6 months – 137.20/60.