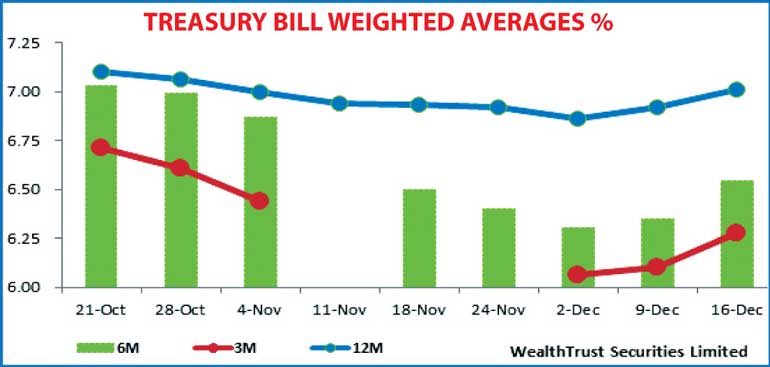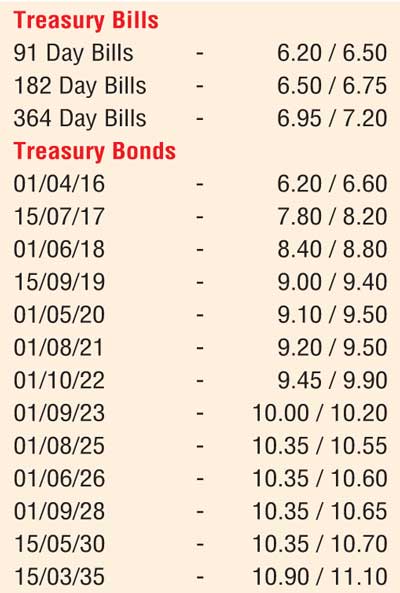 Wealth Trust Securities: The weekly weighted averages continued its increasing trend for a second consecutive week with the 182 day bill reflecting the sharpest increase of 19 basis points to 6.54% closely followed by the 91 day bill increasing by 18 basis points to 6.28%. The 364 day bill increased by 9 basis points to 7.01% as well with the 91 day bill dominating the auction as it represented 77% of the total accepted amount of Rs.15.8 billion. The total bids to offer ratio (Total bids received against total offered amount) was at 2.22:1 against its previous week's number of 2.30:1.

In secondary market bonds yesterday, the expectation and final outcome of the weekly auction reflected in further selling interest sending yields up further. Activity centered the maturities of 01.08.21, 01.09.23, 01.08.25 and 15.03.35 within the range of 9.25% to 9.35%, 9.90% to 10.05%, 10.35% to 10.40% and 10.90% to 10.95% respectively.

Meanwhile in money markets yesterday, overnight call money and repo rates were seen increasing further to 6.36% and 6.08% as the OMO department of Central Bank was seen draining out an amount of Rs.11.17 billion on an overnight basis at a weighted average rate of 6.09%. The surplus liquidity in the market decreased to Rs.65.88.

Two-way quotes on the rupee narrows

The USD/LKR rate in Forex markets on spot contracts was seen closing the day at levels of Rs.143.65/85 against its previous day's closing level of Rs.143.40/80 as activity remained thin. The total USD/LKR traded volume for 15 December was $ 41.25 million.

Some of the forward USD/LKR rates that prevailed in the market were 1 Month - 144.20/35; 3 Months - 145.15/50 and 6 Months - 146.20/50.