By Wealth Trust Securities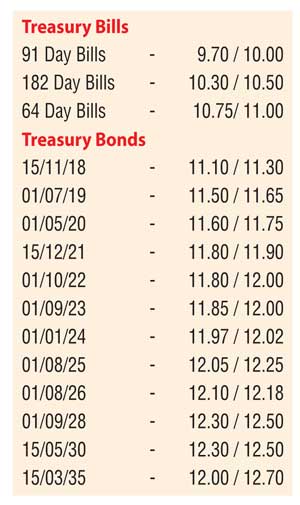 The weekly weighted averages at yesterday's Treasury bill auction, declined for the first time in 11 weeks, with the yields of the 182 day bill and 364 day bill decreasing by nine basis points each to 10.70% and 11.02% respectively.

All bids received for the 91 maturity were rejected. The auction attracted bids totaling a 77-week high of Rs. 97.5 billion with the bids to offer ratio recording 3.31:1.

In the secondary bond market, sentiment turned bullish, with the liquid maturities of 01.03.21, 15.12.21, 01.01.24 and 01.08.24 decreasing to intraday lows of 11.80%, 11.92% and 12.00% each respectively in comparison to the previous day's closing levels of 11.85/95, 11.98/02, 12.30/35 and 12.30/40. Furthermore, the 15.09.19, 01.05.21, 01.08.21 and 01.08.26 maturities were seen dipping to lows of 11.62%, 11.87%, 11.90% and 12.12%. In the meantime, Treasury bills maturing in October 2017 were seen changing hands within the range of 10.35% to 10.40%, post auction.

Today's Treasury bond auction will have on offer a total amount of Rs. 23 billion, consisting of three maturities. The 8.03 year maturity of 01.08.2025 will offer Rs. 7 billion while the 4.07 year maturity of 15.12.2021 and the 1.08 year maturity of 15.01.2019 will have on offer Rs. 8.0 billion each.

The weighted averages at the previous auction conducted on 4 April reflected a downward trend in yields, with the 4.08 year maturity of15.12.2021 declining by 29 basis points to 12.60% and the 6.09 year maturity of 01.01.2024 dipping to 12.92% as against 13.14% recoded previously on the 24's.

In the money market, overnight call money and repo rates remained mostly unchanged to average 8.73% and 8.53% respectively as net surplus liquidity increased to Rs. 26.55 billion. The Open Market Operations (OMO) Department of the Central Bank of Sri Lanka was seen draining an amount of Rs. 29.82 billion at a weighted average of 7.30% by way of an overnight repo auction.

Rupee appreciates marginally

The USD/LKR rate on two week forward contracts appreciated marginally to close the day at levels of Rs. 153.10/20 against its previous day's closing levels of Rs. 153.25/30 on the back of exporter sales, while spot next contracts were quoted at levels of Rs. 152.80/90.

The total USD/LKR traded volume for 25 April 2017 was $ 50.30 million.

Some of the forward USD/LKR rates that prevailed in the market were one month - 153.70/80; three months - 156.20/30 and six months - 159.30/45.