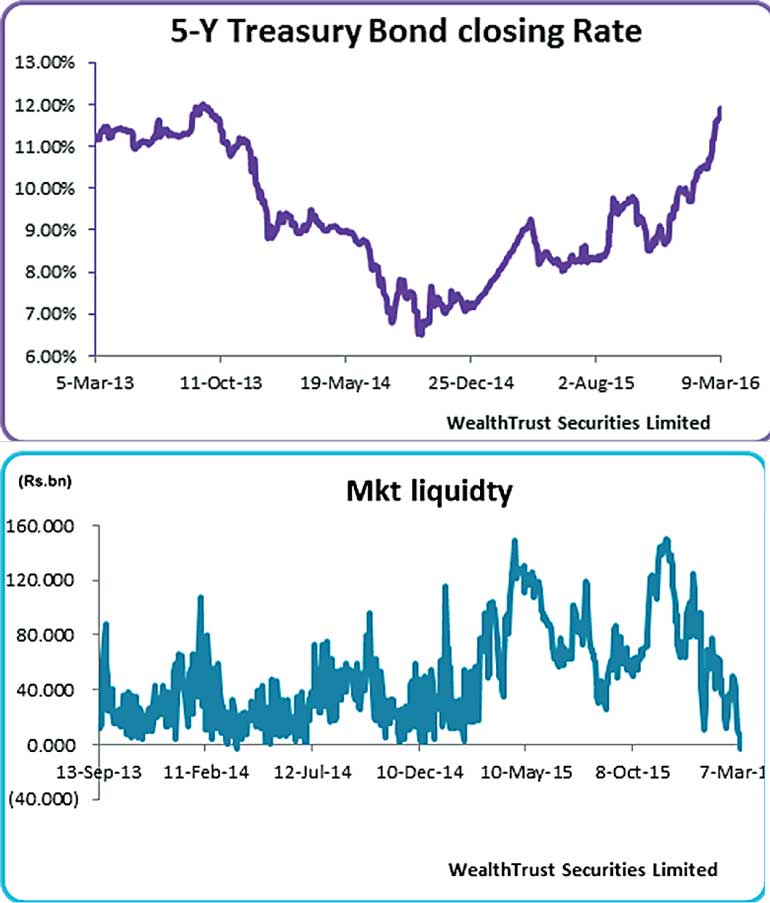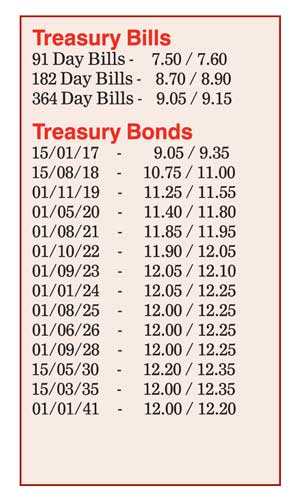 By Wealth Trust Securities

All bids at yesterday's weekly Treasury bill auction were rejected for a second time within the last seven weeks while the 182 day and 364 day maturities were rejected for the second time within the last four weeks. The total offered amount at the auction was Rs. 20 billion. The demand for higher yields by market participants was seen as the reason behind this.

Subsequent to the outcome of the auction results, the increasing trend in secondary market bond yields witnessed during morning hours of trading came to halt with yields dipping marginally. The liquid five year maturity of 1 August 2021 was seen increasing to over a two-and-a-half-year high of 12.00% against its opening low of 11.85% while the seven year maturity of 1 September 2023 jumped up to 12.08% in morning hours of trading on the back of moderate volumes changing hands.

Meanwhile, the SLDB (Sri Lanka Development Bonds) auction for $ 200 million was seen attracting $ 210.98 million in successful bids valued for 11 March at weighted averages of six months LIBOR (London Inter-Bank Offered Rates) plus 475, 371.6, 381.22, 430.89 and 444.58 basis points respectively for three months fixed, three months floating, five months floating, one year floating and two year and one month floating.

This was ahead of today's Treasury bond auctions where a total amount of Rs. 6 billion will be on offer consisting of Rs. 2 billion each on a 03.08 year maturity of 1 November 2019, a 05.05 year maturity of 1 August 2021 and a 07.10 year maturity of 1 January 2024.

Money market liquidity reverses to a negative

Meanwhile in money markets, the overall liquidity reversed to a net deficit for the first time since 27 March 2014 as an amount of Rs. 6.25 billion was accessed from the Standard Lending facility rate of 8.00% (SLFR) against a deposit amount of Rs. 2.88 billion at its Standing Deposit Facility Rate (SDFR) of 6.50%. This led to a net deficit to Rs. 3.37 billion yesterday. Overnight call money and Repo rates were seen increasing to average 7.67% and 7.70% respectively.

Rupee continues to dip further

Meanwhile in Forex markets, the USD/LKR rate on active one week forward contracts depreciated further to close the day at Rs. 145.20/35 against its previous day's closing of Rs.145.15/30 on the back of continued importer demand. The total USD/LKR traded volume for 5 March was $ 67.88 million. Given are some forward USD/LKR rates that prevailed in the market: one month – 145.75/10; three – 147.20/60; and six months – 149.30/60.