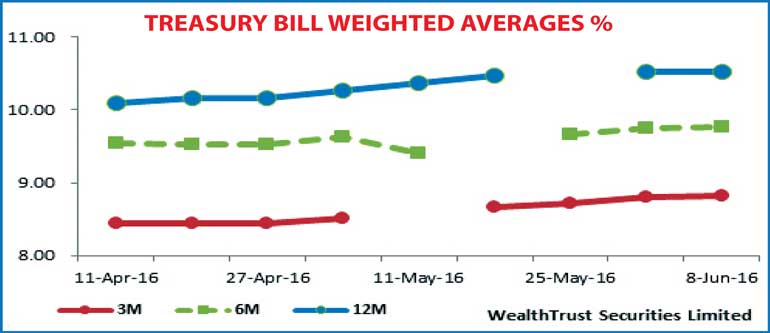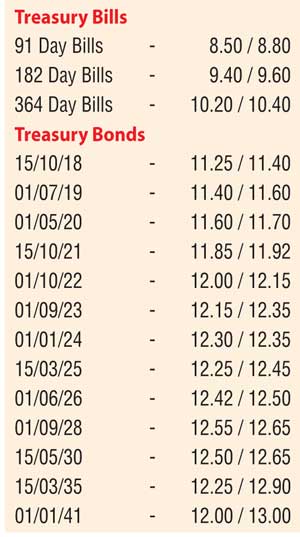 By Wealth Trust Securities

The weighted averages at yesterday's weekly Treasury bill auction continued to increase for a fourth consecutive week but at a slower pace, with only an total amount of Rs. 13.3 billion being accepted against a total offered amount of Rs.30 billion.

The 182 day bill reflected the highest accepted amount of Rs.9.6 billion or 71.83% of the total accepted amount as its weighted average increased by 01 basis point to 9.76%. The weighted average on the 364 day bill increased by 01 basis point as well to 10.53% while the weighted average on the 91 day bill increased by 02 basis points to 8.82%.

Activity in the secondary bond market continued to remain subdued yesterday ahead of today's four Treasury bond auctions. A total amount of Rs.18 billion is on offer consisting of Rs.8 billion on a 2.04 year maturity of 15 October 2018, Rs.5 billion on a 5.04 year maturity of 15 October 2021, Rs.3 billion on a 7.07 year maturity of 1 January 2024 and a further Rs.2 billion on a 10 year maturity of 1 June 2026. The previously conducted auctions for these maturities on 26 May recorded weighted averages of 11.80%, 12.48%, 12.77% and 12.98% respectively.

Meanwhile in money markets, the overnight call money and repo rates averaged 8.17% and 8.03% respectively as the Open Market Operations (OMO) Department of Central Bank injected an amount for Rs.10 billion for a fifth consecutive day at a weighted average rate of 8.00%.

Rupee remains

mostly unchanged

The USD/LKR rate on the active spot next contract remained mostly unchanged to close the day at Rs.145.90/00 yesterday. The total USD/LKR traded volume for 6 June was $ 75.80 million.

Given are some forward USD/LKR rates that prevailed in the market: one month – 146.60/80; three months – 148.25/40; six months – 150.60/90.