Young legal expert Viran Corea has been appointed to the Board of Seylan Bank Plc as a Non Executive Director.

He was nominated to Seylan Bank Board by Sri Lanka Insurance Corporate, which holds 15% stake. The appointment has been approved by the Central Bank as well.

Corea, an Attorney-at-Law, is a Counsel an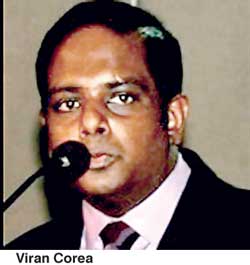 d Legal Consultant with 18 years experience at the Bard. He possess Bachelor-of-Laws (LL.B) and Master-of-Laws (LL.M) degrees from the University of Colombo.

His experience in private practice has included the fields of constitutional and administrative law, human rights law, commercial law, industrial law, arbitration, contract law and land law.

He has been involved as a counsel in a number of landmark cases of national and public importance, reported in the Sri Lanka Law Reports. In 2012, he was picked as an Asia Society Asia 21 Young Leader.

He is also a Research Associate at Verite Research Ltd, a Colombo based private sector research firm and think tank that services public and private sectors in Asia.

Before commencing his private practice, he served as a State Counsel at the Attorney General's Department for several years. During this time he represented in court and advised government departments and state institutions in several important matters. He also examined draft legislation for its constitutionality prior to its presentation to Parliament and vetted bilateral and multilateral agreements involving the Government prior to their acceptance.

During his undergraduate days he was also a radio presenter in SLBC and FM 99, master of ceremonies, part of the choral group The Revelations and dramatist.

An alumnus of S. Thomas Preparatory School and S. Thomas Colege Mt Lavinia, he captained the debating team of Sri Lanka Law College.

With the latest appointment, the Board of Directors of Seylan Bank Plc comprises of N.M. Jayamanne PC (Chairman), I.C. Nanayakkara (Deputy Chairman), K.P. Ariyaratne (Director/CEO), B.A.J.G. Peiris, W.D.K. Jayawardena, S.P.S. Ranatunga, P.L.S.K. Peera, M.C. Pietersz and S.V. Corea.