By Wealth Trust Securities

The secondary market bond yields were seen increasing further yesterday ahead of today's Treasury bond auctions.

Today's bond auctions, conducted in lieu of a Treasury bond maturity of Rs. 83.9 billion due on 1 September, will see a total amount of Rs. 40 billion on offer consisting of Rs. 12.5 billion each on a 14.08-year maturity of 15.05.2030 and a 9.11 year maturity of 01.08.2025 and a further Rs. 10 billion on a 8.00-year maturity of 01.09.2023 and Rs. 5 billion on a 4.02-year maturity of 01.11.2019.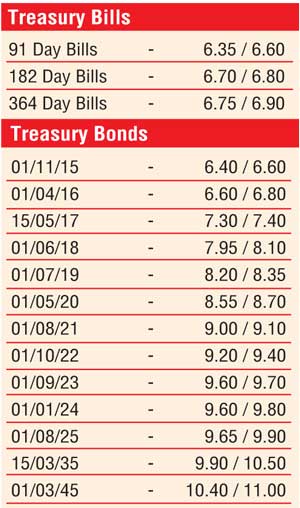 In secondary markets, selling interest saw yields on the liquid maturities of 01.06.18, 01.05.20, 01.08.21, 01.09.23 and 01.08.25 increase to daily highs of 7.95%, 8.60%, 9.05%, 9.60% and 9.70% respectively against its previous day's closing levels of 7.85/90, 8.43/48, 8.95/00, 9.45/50 and 9.65/70 on the back of thin volumes changing hands and two-way quotes widening.

Meanwhile, in money markets, overnight call money and repo rates averaged 6.28% and 6.22% respectively as the Open Market Operations (OMO) department of the Central Bank was seen infusing liquidity for a third consecutive day for an amount of Rs. 4.81 billion yesterday on an overnight basis at a weighted average of 6.15%. The net surplus liquidity stood at Rs. 43.41 billion.


Rupee loses ground for a second consecutive day

The USD/LKR rate on spot contracts lost ground by a further 10 cents for a second consecutive day to close day at Rs. 134.10 yesterday. The total USD/LKR traded volume for the 21 August 2015 was $ 27.18 million. Some of the forward USD/LKR rates that prevailed in the market were one month - 134.76/86; three months - 135.96/06 and six months -137.78/88