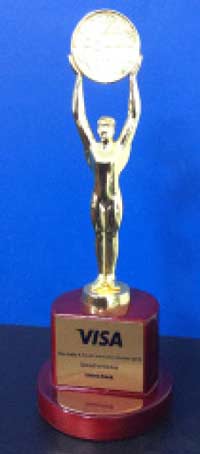 Union Bank was awarded the 'Speed to Market Award' for the recent launch of Union Bank Visa International Shopping debit cards at the VISA Client Forum for India and South Asia which was held recently at the Park Hyatt Resort and Spa, Goa, India. This is the first time that VISA held an awards ceremony for outstanding performances by their partners. The event was attended by over 140 officials from 70 banks across South Asia.

The Visa international shopping debit cards is yet another pragmatic feature of Union Bank's fast growing retail portfolio. Introduced in both Platinum and Classic, the Union Bank VISA Debit card incorporates an extensive range of features, enabling cardholders to access not only unique and attractive offers and discounts, but also makes online shopping and bill payments absolutely convenient. Applying for a Union Bank VISA international debit card is simple and requires a Union Bank current or savings account. The card offers a host of value additions including free SMS on transactions.

Union Bank Vice President Retail Chaya Jayawardane stated that Union Bank's partnership with a global brand such as VISA is of immense value and enables the bank to offer customers greater banking convenience with accessibility to over 1 million VISA ATMs and 29 million VISA merchants globally. The VISA debit card is yet another key highlight in the bank's ongoing development initiatives to further strengthen the retail product portfolio and enhance customer convenience.

She further stated that this award is the beginning of many accolades to come, as we forge ahead enhancing our value proposition to our customers and other stakeholders. This award further affirms that as a team, we can achieve greater heights of success and commended the efforts of the cross functional teams who worked tirelessly to meticulously and efficiently execute the given tasks to meet the set launch timelines during the debut of the cards.