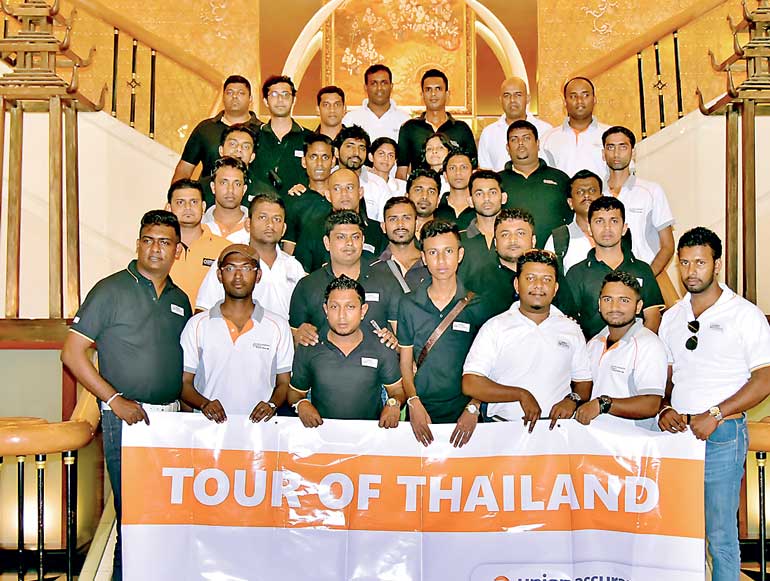 Union Assurance General Ltd. recently rewarded the topmost performers of their sales force with an all-expenses paid tour to Thailand as a part of a structured and comprehensive rewards and recognition scheme intended to motivate sales staff to stretch themselves to provide the highest level of service to customers and achieve the company's objectives.

The five-day tour spanned across two of Thailand's main cities: Bangkok – the national capital of the country and Pattaya – a beach resort popular with tourists and expatriates. The tour was inclusive of a visit to the famous tourist attraction – Wat Traimit Temple of Bangkok more popularly known for holding the Golden Buddha Statue. A total of 40 members participated in the tour inclusive of family members of the top achievers.

Marketing and Distribution General Manager Nihal Handunge stated, "It is our employees who propel us to success and as an organisation it is our responsibility to acknowledge and incentivise their efforts. Our sales force who undoubtedly play a pivotal role in the sustenance of our business operations have been exceptional during the last quarter, this is a well-deserved gesture of appreciation from us to them."

26 sales staff members comprising of the Sales Executive cadre and Agency Sales Force cadre qualified for the Thailand tour while an additional eight support staff members who had excelled in their relevant service areas joined alongside them as well.