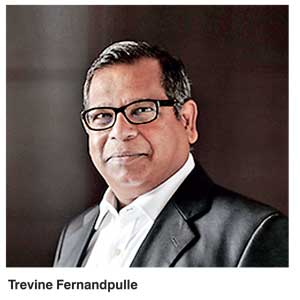 Senior banker Trevine Fernando has been appointed Chairman of AMW Capital Leasing and Finance Plc.

The move follows the retirement of Nihal Welikala upon him reaching the age of 70 on 7 May 2017.

Trevine has been on the Board as an Independent Non-Executive Director since October 2016.

He also served as a Director of Dutch Lanka Trailer Manufacturers Ltd. and Union Bank Ltd., effective January 2017 and April 2017 respectively.

Trevine has over 30 years' work experience at HSBC (local and overseas) from 1978 to 2008 and retired at the end of 2008 as the Deputy CEO. He was seconded by HSBC to work at the Saudi British Bank, Saudi Arabia as Head of Credit from 1996-1999. He was also appointed as the Group Chief Risk Officer at the Bank of Ceylon from 2009 to 2012. From 2012 to May 2016 he was appointed as the Chief Risk Officer/Executive Vice President Risk at the DFCC Group.

Trevine was also appointed to several committees such those governing Asset and Liability, Audit, Strategic Planning, Human Resources, Risk Management, Credit, Investment, Impairment and Information Technology during his appointments at the respective banks.

He is a member of the Board of the National Insurance Trust Fund and the Chairman of the Board of Trustees of the Joseph Frazer Memorial Hospital. Trevine was also the Past President of the Chartered Institute of Bankers (Sri Lanka Branch) and the Founder Member and Past Vice President of the Association of Banking Risk Professionals Sri Lanka.

Trevine is an associate of the Chartered Institute of Bankers London and a Fellow Member of the Chartered Institute of Bankers London. He holds a BSc (Mathematics) from the Imperial College University of London and holds an MSc (Statistics) from the London School of Economics University of London.

With the latest appointments, the Board of AMW Capital Leasing and Finance Plc comprises Trevine Fernandopulle (Chairman) A. Majumdar, A.M. Patrick, S.A.B. Rajapaksa, B. Morris (CEO/Executive Director), K.A. Wijewickrama and S.M. Faulkner.