By Wealth Trust Securities

The weighted averages at yesterday's Treasury bond auction were very close to the secondary market rates, against market expectations of a considerable increase.

However, when compared with the weighted averages registered at the previous auction, yesterday's yields of the 01.08.21 and 01.09.28 maturities increased by 19 and 16 basis points respectively to 9.90% and 11.04%.



The shorter maturity of 15.09.19 recorded a weighted average yield of 9.50% while all bids received of the 01.01.24 maturity were rejected. A total amount of Rs. 13.16 billion was accepted against an offered amount of Rs. 13 billion.

In the secondary bond market, trading activities were minimal due to the delayed Treasury bond auction results. The liquid maturities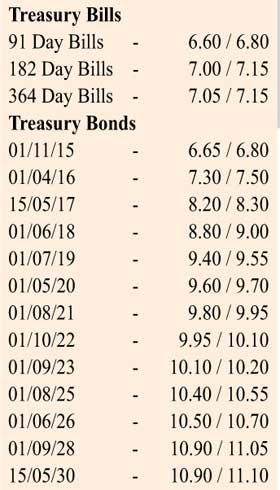 of 01.07.19, 15.09.19 and 01.09.23 were seen quoted at levels of 9.40/55, 9.40/60 and 10.10/20 respectively.

In the money market, overnight call money and repo rates remained mostly unchanged to average 6.35% and 6.46% respectively, with market surplus liquidity at Rs. 57.65 billion.
Rupee depreciates to a fresh low

Continued importer demand resulted in the USD/LKR on spot contracts depreciating to Rs. 141.40 before closing the day at levels of Rs. 141.25/30. The total USD/LKR traded volume for 25 September 2015 was $ 90.60 million.

Some of the forward USD/LKR rates that prevailed in the market were one month - 141.90/10; three months - 143.15/40 and six months - 144.85/05.