By Wealth Trust Securities

The unexpected rejection of all bids received for the three Treasury bond auctions conducted yesterday saw the secondary bond market breathe a sigh of relief. The demand for higher yields at the primary market by participants was seen as the reason behind this. Subsequent to the auction announcement, active two way quotes were seen across most maturities as spreads narrowed

down. This was ahead of today's monitory policy announcement by the Central Bank of Sri Lanka for the month of December due at 7.30 pm. Policy rates have been held steady at 6.00% and 7.50% for seven consecutive months.

Furthermore at today's weekly Treasury bill auction, a total amount of Rs.22 billion will be on offer consisting of Rs.4 billion on the 91 day, Rs.8 billion on the 182 day and Rs.10 billion on the 364 day maturities. At last week's auction, weighted averages increased across the board for a third consecutive week to record 6.38%, 6.69% and 7.11% respectively.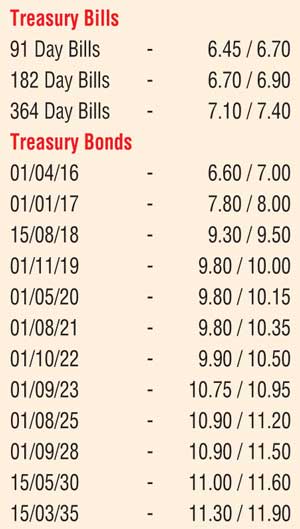 In money markets, the overnight call money and repo rates remained steady to average 6.40% and 6.20% respectively as surplus liquidity stood at Rs.78.19 billion yesterday. All bids received for the Rs.30 billion OMO auction (Open Market Operations) for a period of 31 days was rejected by the OMO department of the Central Bank as well.


Rupee depreciates further

The rupee on spot contracts depreciated further yesterday to close the day at Rs.143.90/05 in comparison to its previous day's closing levels of Rs.143.85/95 on the back of continued importer demand. The total USD/LKR traded volume for 28 December 2015 was $ 55.75 million.

Some of the forward USD/LKR rates that prevailed in the market were 1 Month - 144.45/65; 3 Months - 145.55/75 and 6 Months -146.95/15.