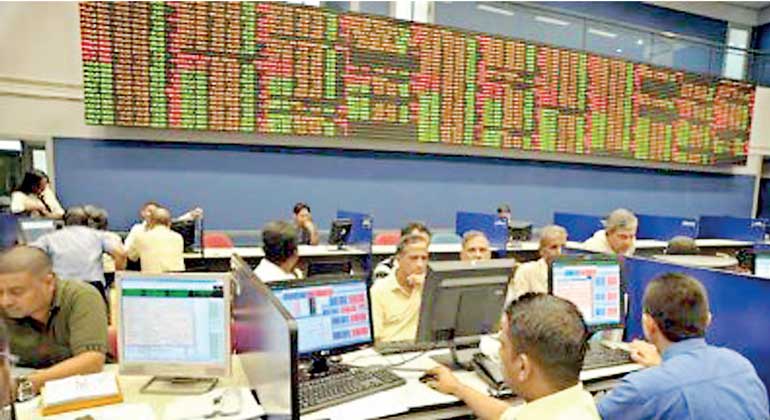 Reuters: Shares fell for a seventh session in eight on Thursday and posted their lowest close in a month with blue chips leading the losers.

However, foreign investors bought into risky assets, limiting the downside.

The Colombo stock index ended 0.16% lower at 6,684.47, its lowest close since 19 June, and its fourth straight session of falls.

"Turnover was healthy and we still see foreign interest in equities. We see the support level at 6,650," said Softlogic Stockbrokers Deputy CEO Hussain Gani.

Foreign investors bought shares worth net Rs. 346.3 million ($ 2.25 million) on Wednesday, extending the year-to-date net foreign inflow to Rs. 24.8 billion worth of equities.

Turnover was Rs. 1 billion, higher than this year's daily average of Rs. 914.1 million.

Shares of Ceylon Tobacco Company fell 1.6%, while market heavyweight John Keells Holdings closed 0.6% weaker.
Rupee steady; bond yields down after T-bill auction
Reuters: The rupee closed steady on Thursday with dollar sales by exporters and foreign banks offsetting demand for the greenback from importers, while yields on government securities fell a day after T-bill yields came down, dealers said.

They said the market is concerned that the downward pressure on the rupee is likely to rise due to the fall in government bond yields, after the International Monetary Fund (IMF) called for more monetary policy tightening and measures to curb strong credit growth.

T-bill yields fell 4-22 basis points at a weekly auction on Wednesday.

The fall in T-bill yields, which move in tandem with market interest rates, will increase the demand for cheap credit and add downward pressure on the currency, dealers said.

The spot rupee closed at 153.70/75 per dollar, hardly changed from Wednesday's close of 153.65/75.

"There were no large import bills and the rupee is not under pressure at the moment with little inflows coming in," a currency dealer said asking not to be named.

"Bond yields have fallen after the Wednesday's t-bill auction."

Central Bank Governor Indrajit Coomaraswamy said on Monday the rupee was still "over-valued" and that the central bank was still buying dollars to avoid any appreciation.

The Central Bank is compelled to buy dollars from the market to meet a reserves target set by the IMF under a $ 1.5 billion, three-year loan program.

He told Reuters that the Central Bank had bought dollars in the range of $ 750 million-$ 800 million from the market, out of the $ 1.2 billion it had planned to purchase in the 10 months from March this year.

Analysts expect the currency to depreciate 4 percent this year. It has already fallen 2.6% so far in 2017. The IMF, which completed its second review of a $ 1.5 billion loan on Tuesday, said the country's performance under its program has been "broadly satisfactory".

The completion of the second review will enable the IMF to release a third tranche of aid of about $ 167.2 million, bringing total disbursements under the arrangement to the equivalent of about $ 501.5 million.

Seasonal demand for dollars is expected to pick up from August, dealers said.