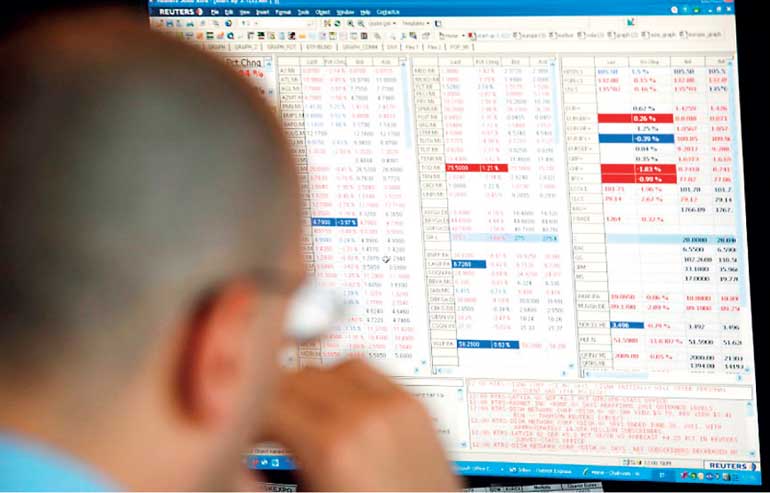 Reuters - Sri Lankan shares closed lower on Tuesday, led by large caps, as investors shunned risky assets in line with weaker global markets and after the country's central bank raised interest rates last week.

The central bank on Friday raised its key policy interest rates by 50 basis points from a record low, to prevent demand-driven inflationary pressure, signalling a rise in the local interest rates.

The recent recovery in riskier assets fizzled out on Tuesday, with a fall in stocks, oil and the value of China's yuan currency boosting investor demand for safer assets such as the Japanese yen, government bonds and gold.

The stock markets were closed on Monday for a Buddhist religious holiday.

The benchmark share index closed 0.35 percent weaker at 6,228.99, hovering near its lowest close since April 2014 which it hit on Thursday. It has fallen around 10 percent this year through Tuesday, amid a rise in market interest rates.

"Though there was an initial uptrend, invariably it came down," said Dimantha Mathew, head of research at First Capital Equities (Pvt) Ltd. "It may not be a shock fall as the rate hike was expected. It'll be a gradual fall."

Yields on 91-day t-bills rose 13 basis points at a weekly auction last Wednesday to a more-than-two-year high, signalling a further rise in market interest rates.

Turnover was 605.2 million rupees ($4.20 million), less than this year's daily average of 728.1 million rupees.

Foreign investors sold a net 94.9 million rupees worth of shares on Tuesday, extending the net foreign outflow to 1.47 billion rupees worth equities so far this year.

Shares in Ceylon Tobacco Company Plc fell 2.35 percent, while Sri Lanka Telecom Plc fell 2.12 percent.
---
Rupee forwards end steady; pressure on despite rate hike
Reuters - Sri Lankan rupee forwards closed steady on Tuesday as inflows kept pace with importers' dollar demand, but pressure remained with the one-year rupee premium rising despite a 50-basis-point rate hike by the central bank last week.

One-week rupee forwards, which act as a proxy for spot, ended at 144.60/67 per dollar, nearly unchanged from Friday's close of 144.60/65.

"There were scheduled outflows and the rupee hardly reacted to the policy rate increase," a currency dealer said, asking not to be named.

"It will take some time for the downward pressure on the rupee to ease."

Small-scale banks also got some dollar inflows, another dealer said, which helped curb volatility in the rupee.

Dealers said the one-year rupee premium gained by 50 cents to 8.20/8.80 due to the rate hike as overnight interest rates also rose in tandem with the hike.

With the rate hike, analysts expect imports to slow down and some let-up in foreign investors exiting from government securities, which have been the main reasons for the fall in the rupee.

Commercial banks parked 36.977 billion rupees ($256.61 million) of surplus liquidity on Tuesday, using the central bank's deposit facility at 6.50 percent, official data showed.