Reuters: India has given State Bank of India's Arundhati Bhattacharya a one-year extension as Chairman, the nation's top lender by assets said, allowing her more time to lead a clean-up of bad assets and oversee a merger of affiliates.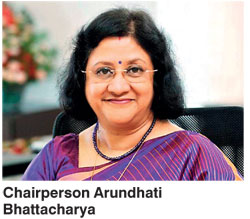 Bhattacharya, 60, was due to complete her current three-year term on 6 October. The Indian government, which owns the majority of SBI, has extended her term for one year, effective on 7 Oct., the bank said in a filing on Saturday.

Bhattacharya is the first woman to lead the two-century old bank after climbing up through its ranks since joining in 1977.

She has won strong praise from investors at a time when state-run banks are being pressed by the central bank to clean up $120 billion in soured loans that had crimped credit growth.

SBI, which accounts for more than a fifth of India's bank loans and deposits, is also in the process of taking over five of its subsidiaries and a niche bank for women to create a mega bank with assets of $447 billion.

Bhattacharya was named in the Forbes list of the world's 100 most powerful women, and there had been speculation that she was a candidate to replace Raghuram Rajan as Reserve Bank of India Governor, although that ultimately went to insider Urjit Patel.