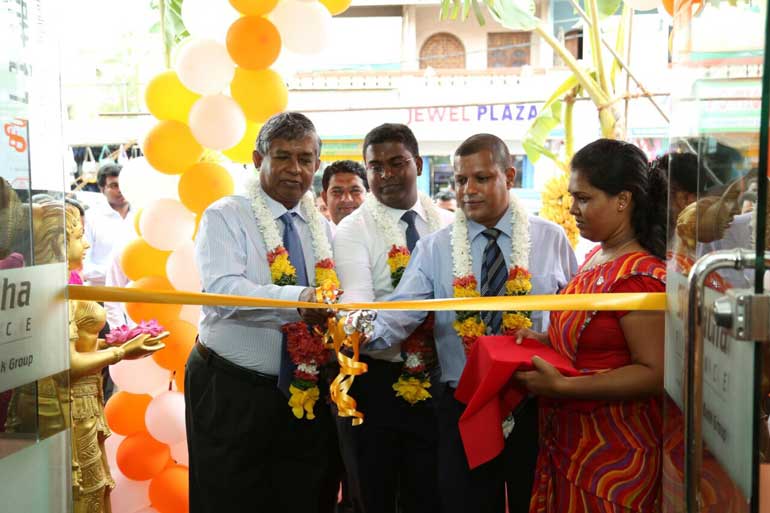 Siyapatha Finance PLC Board of Directors member Dr. Dilanjan Soysa officially opens the Vavuniya branch with the presence of Siyapatha Finance PLC Chief Operating Officer Rajeev de Silva and Siyapatha Finance PLC Head of Marketing Mathisha Hewavitharana.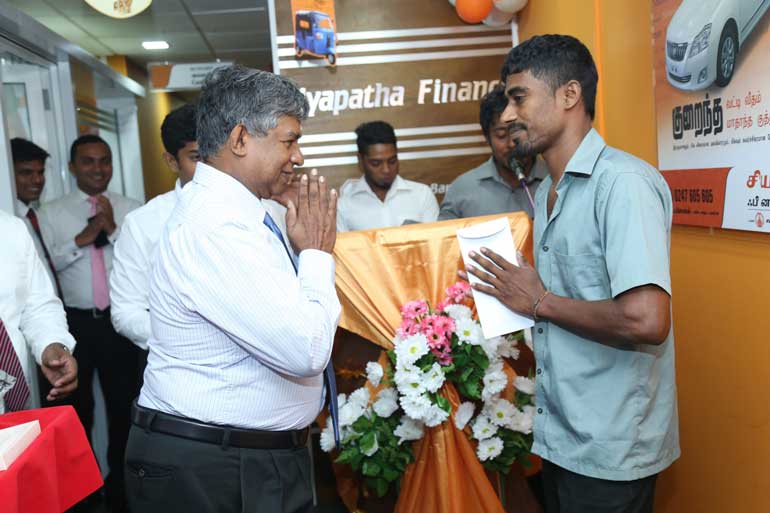 Siyapatha Finance PLC Board of Directors member Dr. Dilanjan Soysa offering the first Leasing Facility to the customer
Siyapatha Finance PLC, the largest fully owned subsidiary of Sampath Bank PLC, recently expanded its branch network in the Northern Province by opening its 19th branch in Vavuniya. The opening of this branch is coinciding with the 10th anniversary celebrations of Siyapatha Finance and it is the third branch opened in 2015 to mark the 10th anniversary year of the company.

Siyapatha Finance is known and trusted for its exemplary service standards and commitment to customer convenience. The new branch in Vavuniya will expand the company's geographical presence to the Northern Province, whilst at the same time ensuring that its customers will be able to conveniently enjoy all the financial facilities and solutions offered by Siyapatha Finance PLC.

The ceremonial opening of Siyapatha Finance Vavuniya branch was attended by Siyapatha Finance Board of Directors member Dr. Dilanjan Soysa and Siyapatha Finance PLC Chief Operating Officer Rajeev de Silva.

Siyapatha Finance PLC Chief Executive Officer Roshan Nanayakkara stated in his message of felicitation on the new branch opening in Vavuniya, "Being the fastest growing finance company in the country, Siyapatha Finance will ensure that all financial requirements of customers in the Northern region will be fulfilled at the highest level of efficiency, reliability and convenience."

With its focus on growth and the innovations to the financial sector, coupled with consistently above the industry average performance, Siyapatha Finance has earned a reputation as a trustworthy and upward moving entity. The introduction of the new branch in Vavuniya will support the development of the area by enabling better finance and leasing facilities for both the general public and business sector. The company will provide many financial products such as Gold Loans, Factoring and Fixed Deposits in addition to Finance Leases and Hire Purchase facilities.

Siyapatha Finance PLC was incorporated in March 2005, with the prime purpose of serving the small and medium entrepreneurial segments. The company has earned for itself a National Long Term Rating of "A" with a stable outlook from Fitch Ratings Lanka Ltd. which is an internationally accredited rating agency.

The new Siyapatha Finance Vavuniya branch is located at No. 156, Bazaar Street, Vavuniya. For further information on Siyapatha Finance, log on to http://www.siyapatha.lk/ or call 0777 605605.