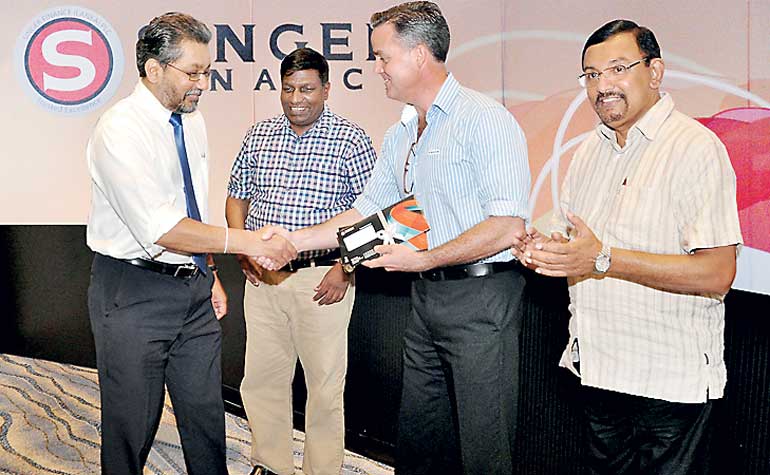 Singer Group Chairman Dr. Saman Kelegama (extreme left) receives the first Singer Credit Card from Singer Asia President/CEO Gavin Walker. Also pictured (second left) Singer Group Sri Lanka Chief Executive Officer Asoka Pieris and Singer Finance Chief Executive Officer Shantha Wijeweera (extreme right)
Singer Finance (Lanka) PLC, a subsidiary of Singer (Sri Lanka) PLC launched its credit card recently. Singer Finance created history as the first non-banking financial institution in the country to launch an internationally accepted credit card.

Unveiled at an internal ceremony, the new Singer Credit Card will now be available to customers.

The new credit card Powered by VISA will be accepted at all local and international merchants and ATM locations. "Offering a credit card is a logical extension of our activities, as Singer has been in consumer finance in Sri Lanka since 1877. We plan to effectively and aggressively roll out the card through Singer Finance's 19 regional branches and among Singer Sri Lanka's immense customer base and our distribution network of 410 branches," stated Asoka Pieris, Chief Executive Officer of the Singer Group.

As a pioneering non-banking financial institution, Singer Finance continuously improves in offering innovative financial products aligned with ongoing development of the Group's strategy. Singer Finance firmly believe this product will help uplift the lifestyle of its customers. The new credit card will also serve to empower the masses as a means of conducting transactions.

"Singer Finance has recorded marked growth in recent years and has played a key role in the growth of the dynamic financial system in the country. It is a momentous occasion as Singer Finance is the first licensed financial company to be granted a license from the Central Bank of Sri Lanka to issue a credit card," said Shantha Wijeweera, Chief Executive Officer, Singer Finance.

Singer Finance (Lanka) PLC was incorporated on 19 April 2004 to operate as a Finance Company within the provisions of the Finance Companies Act No. 78 of 1988 (later amended by Act No.23 of 1991 which has been subsequently replaced by the Finance Business Act No.42 of 2011).

The company's main activities consist of accepting deposits from members of the public and granting leases, hire purchase facilities and consumer loans to its customers. The organisation had also commenced financing all hire purchase accounts of Singer Mega, the modern trade channel of parent company, Singer Sri Lanka.