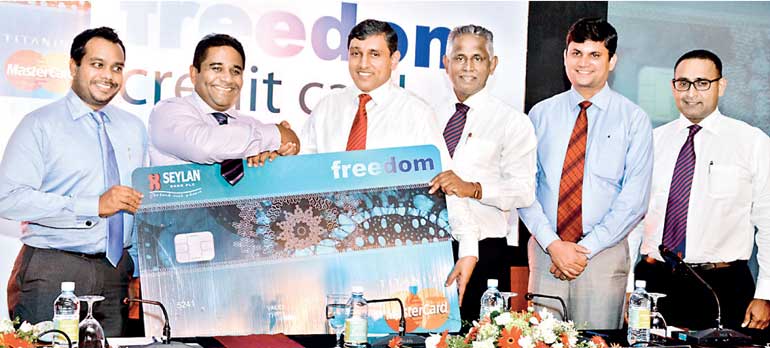 Seylan Bank Director/Chief Executive Officer Kapila Ariyaratne (2nd from left) handing over the first Credit Card to NMK Holdings Chairman N.M. Manjula Narayana. Others from left: Seylan Bank Senior Deputy General Manager Tissa Nanayakkara, MasterCard Country Manager R. B. Santosh Kumar and Seylan Bank Chief Manager Cards Nimesh Fernando look on - Pic by Upul Abayasekara
By Shehana Dain

Seylan Bank has introduced its revolutionary freedom credit card eliminating all fees and slashing down its nominal interest rate to 20% per annum from 24%.


Embodying the spirit of freedom, the cards, brought to market in partnership with MasterCard, will offer greater value to cardholders as it eliminates joining fee, late payment fee and annual fee and last but not least also charge a lessened interest rate.

Seylan Bank Director/CEO Kapila Ariyarathne speaking at the event stated that Seylan Bank has been setting benchmarks of new banking trends in the industry for decades, this time around he stressed that the bank's focus is on their customers day-to-day activities to improve the quality and value of their banking transactions.


He noted: "Decades of experience and intensive research has helped us clearly identify the different kinds of credit card users and allowed us to tailor our products to suit each type of customer. We found that while consumers appreciate the security and convenience offered by credit cards, they're increasingly wary of the plethora of fees changed."


Kapila further highlighted: "We remind you that we don't only launch new products and processes. We have been consistently expanding our reach across the Island. Currently we have 159 branches across the Island and we hope to expand that by 20-22 branches to 180 branches by this year end, and over the next two years it will go up by 225 which will give extensive coverage and touch points to our customers across the country."


Seylan Bank currently holds 10% market share in the credit card market. When asked as to who is their target market and strategic moves taken by the bank to expand their market share, Seylan Bank Chief Manager Cards Nimesh Fernando elaborated: "After extensive research and digging in our own customer base we found out that there is a particular set of customers who use their credit cards extensively on a monthly basis that is they have very little cash in hand. One thing that they feel is a deterrent is the fees. So we saw this as an opportunity and through this we want to encourage people to use a card."


All Sri Lankans over the age 18 with a monthly income of Rs. 50,000 and above a fixed deposit of Rs. 100,000 will be eligible to apply for this new credit card from Seylan Bank. With up to 51 days interest free credit, cardholders will be charged a one-off maintenance charge of Rs. 500 which will be charged to the monthly statement only if the monthly statement credit card usage is lower than Rs. 10,000

Seylan Bank Senior Deputy General Manager Retail Banking Tissa Nanayakkara noted: "Winning the trust and appreciation of our customers, our credit card products are renowned for the exhilarating array of deals and privileges that we offer. Waiving off all traditional fees we are excited to extend these deals to Seylan Freedom Credit Cards."