By Wealth Trust Securities

The secondary bond market continued to witness moderate activity yesterday as yields were seen increasing marginally ahead of today's weekly Treasury bill auction.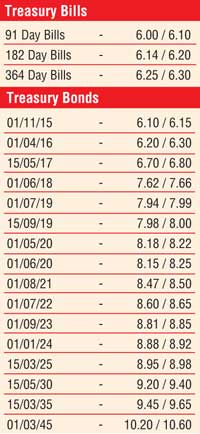 Yields on the liquid maturities of 1 August 2021, 1 July 2022, 1 September 2023,1 January 2024 and 15 March 2025 was seen increasing to intraday highs of 8.50%, 8.62%, 8.83%, 8.90% and 8.96% respectively against its days opening lows of 8.45%, 8.57%, 8.78%, 8.87% and 8.94%.

In addition, a limited amount of activity was witnessed on the 15 September 2019 and 1 May 2020 maturities within the range of 7.96% to 7.98% and 8.18% to 8.20%.

At today's auction, Rs. 22 billion will be on offer with Rs. 5 billion on the 91 day bill, Rs. 7 billion on the 182 day bill and Rs. 10 billion on the 364 day bill maturities.

At last week's auction, the weighted average (W.Avg) of the 91 day bill reflected an increase of one basis point to 6.08% while the W.Avgs of the 182 day bill and 364 day bills remained unchanged at 6.18% and 6.29% respectively.

Meanwhile in money markets yesterday, surplus liquidity of Rs. 70.10 billion saw overnight call money and repo rates remaining steady to average at 6.11% and 5.78% respectively.

Rupee remains steady

In forex markets, the USD/LKR rate on spot contracts remained steady to close the day at levels of Rs. 134. However, the three month forward contract was seen trading at levels of Rs. 135.85 against its previous day closing levels of Rs.135.60/90. The total USD/LKR traded volume on 15 June stood at $ 96.70 million.