By Wealth Trust Securities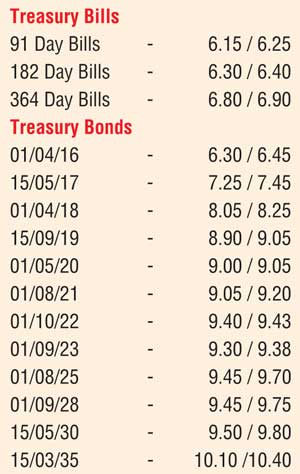 Secondary market bond yields were seen closing the day broadly steady yesterday in comparison to its previous trading day's closings, subsequent to increasing during the day.

Selling interest on the liquid maturities of 1 October 2022 and 1 September 2023 saw its yields increase to intraday highs of 9.50% each during morning hours of trading. However, buying interest towards the latter part of the day saw yields dip to daily lows of 9.35% and 9.40% respectively once again.

This was ahead of today's bond auctions, the first for the month of November at where a total of Rs. 12 billion will be on offer. This will consist of Rs. 2 billion on a 4.05 year maturity of 1 May 2020, Rs. 3 billion on a 10.06 year maturity of 1 June 2026 and Rs. 7 billion on a 19.03 year maturity of 15 March 2035. The previously recorded weighted averages for these tenures are 8.99%, 10.34% and 11.13% respectively.

In money markets, the overnight call money and repo rates remained low to average 6.31% and 5.82% respectively as surplus liquidity remained high at Rs. 149.24 billion.


Rupee continues downward slide

The rupee on the back of continued importer demand saw it drop to a new low of Rs. 143.10/25 yesterday in comparison to its previous day's closing levels of Rs. 142.95/10. The total USD/LKR traded volume for 24 November was $ 54.60 million.

Given are some forward USD/LKR rates that prevailed in the market: one month – 143.50/60; three months – 144.25/35; six months – 145.60/70.