By Wealth Trust Securities

The secondary bond market continued its bullish run for a seventh consecutive day as yields were seen dipping further in morning hours of trading.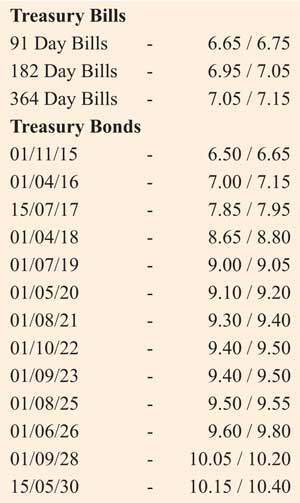 Buying on the liquid maturities of the two 2018s (i.e. 1 April 2018 and 15 November 2018), the two 2019s (i.e. 1 July 2019 and 15 August 2019), the 1 May 2020, the two 2021s (i.e. 1 May 2021 and 1 August 2021), the 1 September 2023 and the 1 August 2025 saw its yields dip to intraday lows of 8.60%, 8.75%, 8.90% each, 9.05%, 9.20% each, 9.30% and 9.40% respectively.

In addition, the 2017 maturities were seen changing hands within the range of 7.80% to 7.97% while on the long end of the curve the 01.09.2028 changed hands within the range of 10.05% to 10.20%.

The outcome of the Sri Lanka Development Bond (SLDB) auction at where a total amount of $ 330 million was accepted from durations ranging from one year to four years with foreign participation increasing coupled with the drop in US treasury yields with the 10-year yield dipping below the 2.00% technical level for the first time since 28 April was seen as the reasons behind the sustained bullish run.

However, profit taking towards the latter part of the day saw yields increase marginally once again to end the day at its previous day's closing levels.

Meanwhile in money markets, the overnight repo rate decreased further to average 6.33%, despite surplus liquidity decreasing further to Rs. 54.71 b yesterday. The overnight call money average stood at 6.35%.


Rupee trades within a narrow range

The rupee on spot contracts traded within a narrow range of Rs. 140.95 to Rs. 141.00 yesterday against its previous day's closing levels of Rs.140.90/95.The total USD/LKR traded volume for 14 October was $ 106.50 million.

Some of the forward USD/LKR rates that prevailed in the market were one month – 141.60/75; three months – 142.80/00 and six months – 144.45/55.
---
Bourse ends at 3-month closing low; Govt. policies, budget eyed
Reuters: Shares fell for a third straight session and closed at their lowest level in three months on Thursday as investors waited for clues from Government policies and Budget, brokers said.

The main stock index ended 0.14%, or 9.87 points, weaker at 7,030.45, its lowest closing since 14 July.

Analysts said a Government move to implement a Budget proposal of a retrospective tax targeting corporates is the main concern for investors.

"The Super Gains Tax is the cloud that is prevalent," said Yohan Samarakkody, Head of Research at SC Securities Ltd.

"Economic and policy uncertainty is also a reason for investors to take a step back and look for direction. The situation will be gloomy till the Budget."

Analysts said investors were cautious ahead of Prime Minister Ranil Wickremesinghe's policy statement next month outlining his Government's economic priorities and the Government Budget in November.

Turnover stood at Rs. 824.9 million ($5.88 million), compared with this year's daily average of Rs. 1.11 billion.

Foreign investors, who have been net sellers of Rs. 2.77 billion worth of equities so far this year, bought a net Rs. 205.9 million worth of shares on Thursday.

Shares of Ceylon Beverage Holdings Plc fell 6.86%, while People's Leasing & Finance Plc dropped 2.33% and Dialog Axiata Plc fell 0.90%.
---
Rupee falls on importer dollar demand
Reuters: The rupee ended weaker on Thursday due to importer dollar demand, though selling of the greenback by banks capped the decline, dealers said.

The rupee ended at 141.00/05 per dollar, compared with Wednesday's close of 140.85/90.

"There was import demand, two state banks were also buying dollars probably to cover oil bills, but bank selling prevented the fall," said a currency dealer who asked not to be named.

The rupee hit a record low of 141.40 per dollar on 28 September, but recovered slightly after a State-run bank sold dollars.

Dealers said importer dollar demand has fallen following Government measures to discourage vehicle imports but the seasonal imports are expected to pick up.

Sri Lanka raised $330 million from the sale of dollar-denominated development bonds on Thursday, the Central Bank said.