By Wealth Trust Securities

Yields in secondary bond markets r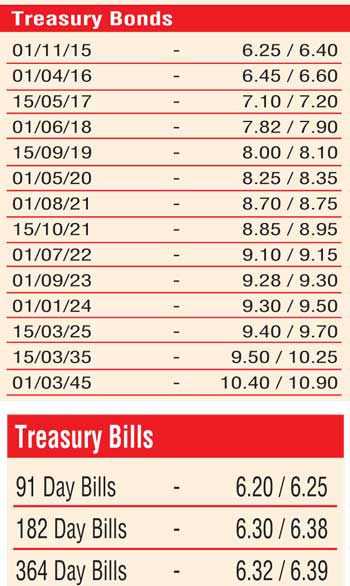 emained mostly unchanged ahead of today's monetary policy announcement for the month of July.

The Central Bank of Sri Lanka held policy rates steady at 6% and 7.50% in June, for a second consecutive month. Limited amount of activity was witnessed in maturities consisting of 1 August 2021, 1 October 2022 and 1 September 2023 within the yields of 8.70% to 8.74%, 9.13% to 9.16% and 9.30% to 9.35% respectively. However, activity dried up considerably towards the later part of the day.

Meanwhile in secondary bill markets, September and October 2015 maturities were seen quoted at levels of 6.05/10 and 6.22/25.

In money markets, surplus liquidity of Rs 82.56 billion was deposited at Standing Deposit Facility Rate (SDFR) of 6.00% whilst the overnight – call money and repo rates averaged at 6.13% and 5.61% respectively.


Rupee remains stable

Meanwhile, in Forex markets the USD/LKR rate on spot contracts remained steady for a third consecutive day to close at Rs. 133.70. The total USD/LKR traded volume for the previous day (22 July) stood at $ 71.50 million.

Some of the forward dollar rates that prevailed in the market were one month – 134.25/40, three months – 135.35/50 and six months – 136.75/00.