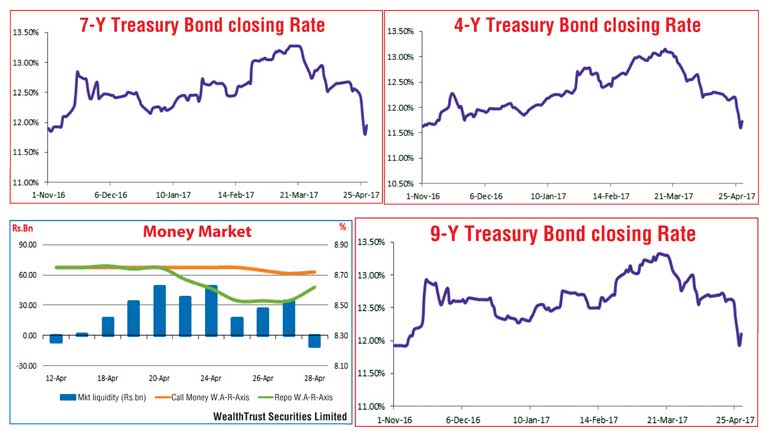 By Wealth Trust Securities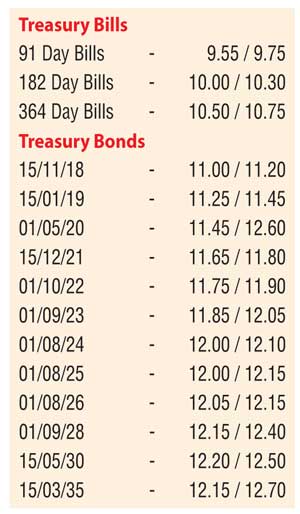 The week ending 28 April commenced on a bullish note with considerable buying interest, as yields across the yield curve commenced a downward trend on the back of substantial activity in the secondary bond market. Activity centered on the four year maturity of 15.12.2021, the two seven year maturities of 01.01.2024 and 01.08.2024 and the nine year maturity 01.08.2026 as its yields were seen opening the week at highs of 12.15%, 12.56% each and 12.60% respectively and dipping close to six month lows of 11.50%, 11.69%, 11.79% and 11.78% on Thursday 25 April following the outcome of the Treasury bond auctions.

The outcome of the weekly Treasury bill auction complimented the decline in bond yields, as its weighted averages were seen declining for the first time in eleven weeks. However, profit taking towards the latter part of the week saw yields edging up once again with the 15.12.21, the two 2024's and the 01.08.26 increasing to highs of 11.70%, 11.95%, 12.00% and 12.10% respectively.

The money market liquidity was seen turning negative once again on Friday 28 April for the first time since 12 April. The Central Bank was seen pumping in an amount of Rs. 30 billion on Friday by way of a reverse repo auction at a weighted average of 8.73% while it drained out liquidity throughout the rest of the week at averages of 7.29% and 7.30%. Overnight call money and repo remained stagnant during the week to average 8.74% and 8.66% respectively.


Rupee broadly steady

The USD/LKR rate was seen closing the week broadly steady at Rs. 153.20/30 on its two week forward contracts as markets were at equilibrium. The daily USD/LKR average traded volume for the first four days of the week stood at $ 88.56 million.

Some of the forward dollar rates that prevailed in the market were one month – 153.80/95; three months – 155.80/00 and six months – 158.80/00.