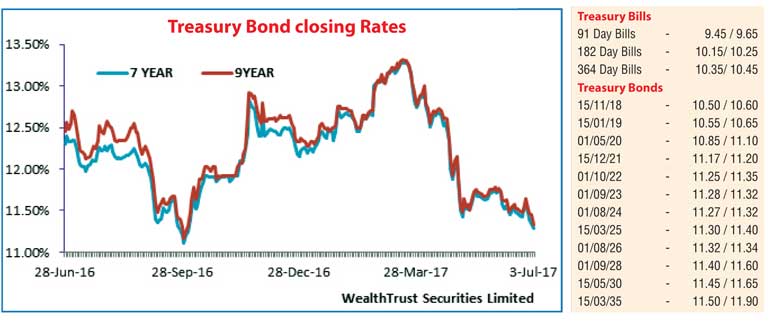 The secondary bond market witnessed increased activity yesterday as continued foreign and local buying interest led to yields dipping across the curve for a fourth consecutive day.

The liquid maturities 01.08.24 and the two 2026 maturities (i.e. 01.06.26 and 01.08.26) saw their yields dip to nine-month lows of 11.28%, 11.35% and 11.30% respectively against their previous day's closing levels of 11.30/38, 11.45/55 and 11.42/47.

In addition, the maturities of 15.11.18, the two 2021's (i.e. 01.08.21 and 15.12.21) and 01.09.23 were seen changing hands at lows of 10.56%, 11.18%, 11.17% and 11.31% respectively as well.

The total secondary market Treasury bond transacted volume for 30 June 2017 was Rs. 6.45 billion.

In money markets, overnight call money and repo rates remained mostly unchanged to average 8.75% and 8.83% respectively as the net market shortfall reduced to a 12-day low of Rs. 17.80 billion yesterday. The Open Market Operations (OMO) Department of the Central Bank injected an amount of Rs. 4.00 billion at a weighted average of 8.75% by way of an overnight reverse repo auction.

Rupee steady

The USD/LKR rate on spot contracts remained mostly unchanged to close the day at Rs. 153.55/65 yesterday as markets were at equilibrium.

The total USD/LKR traded volume for 30 June 2017 was $ 53.80 million.