Weekly averages dip for a third consecutive week
A further round of bond auctions curtails free fall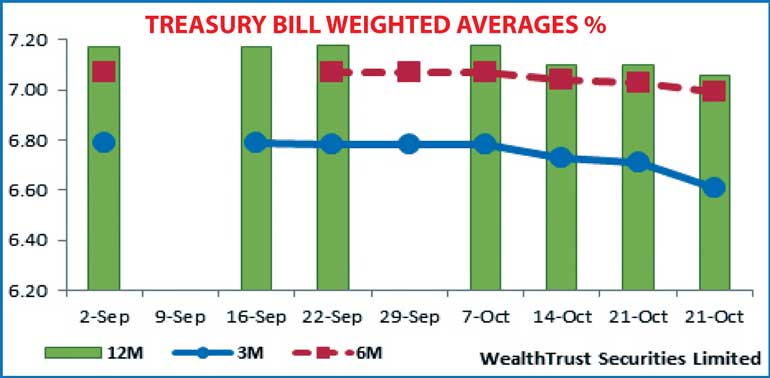 By Wealth Trust Securities

The successful sale of a $ 1.5 billion sovereign dollar bond by the Central Bank of Sri Lanka on behalf of the Government of Sri Lanka saw secondary market rupee bond yields plunge yesterday.

Considerable buying interest in morning hours of trading saw secondary market yields hit two month lows mainly on the liquid maturities of the two 2019s (i.e. 1 July 2019 and 15 September 2019) to 8.67% and 8.70% respectively, the 1 May 2020 to 8.85%, the two 2021s (i.e. 1 May 2021 and 1 August 2021) to 9.00% each respectively, the 1 October 2022 to 9.15%, the 1 September 2023 to 9.20% in comparison to its previous day's closing levels of 9.05/10 each, 9.10/15, 9.40/45 each, 9.50/56 and 9.55/70 respectively.

In addition on the long end of the yield curve, the 1 August 2025, 1 September 2028 and the 15 March 2035 was seen changing hands within the range of 9.40% to 9.45%, 10.10% to 10.15% and 10.75% to 10.85% as well.

The downward momentum was further driven by the outcome of the weekly Treasury bill auction, at where weighted averages dipped across all three maturities for a third consecutive week. The 91 day reflected the sharpest drop of 10 basis points (bp) to 6.61% followed by the 182 and 364 day bills by four bp each to 6.99% and 7.06% respectively. The 182 day bill dominated the auction as it represented 75.56% of the total accepted amount of Rs 23.09 billion.

However, the downward trend in bond yields came to a halt towards the latter part of the day and even increased marginally following the announcement of a further round of bond auctions totalling Rs. 9 billion.

Meanwhile in money markets, overnight repo rates decreased further to average 6.09% as surplus liquidity remained mostly unchanged at Rs. 71.68 b yesterday. The overnight call money rate remained steady to average 6.35%.

Rupee appreciates

Meanwhile in Forex markets yesterday, the USD/LKR rate appreciated marginally to Rs. 140.85/90 against previous day's closing of Rs 141.05/15 on back of the sovereign dollar bond issue. The total USD/LKR traded volume for 26 October was $ 44.75 million.

Given are some forward USD/LKR rates that prevailed in the market: one month – 141.35/45; three months – 142.50/60; six months – 143.85/95.