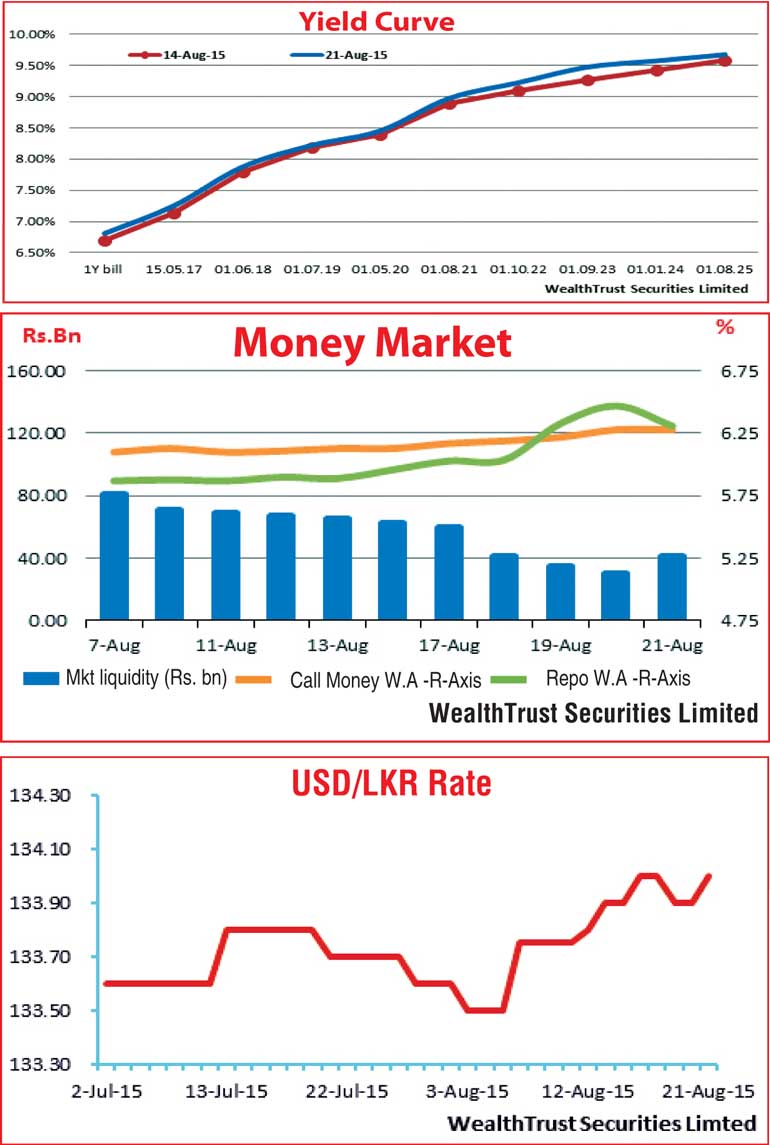 By Wealth Trust Securities

Secondary market bond yields rose across the boards during the week, fuelled by a tight money market and a rise in the T- bill weighted average yields at the primary auction.

Activity was witnessed across the yield curve consisting of bonds with durations of 01 to 10 years, with the longer end maturities reflecting the sharpest increases. Yields of the six year maturity 01.08.21 increased by 23 basis points to weekly highs of 9.00% as against its opening lows of 8.77%. Furthermore, the eight year maturity of 01.09.23 reflected an increase of 28 basis points to 9.45% as against its opening lows of 9.17%. This was closely followed by the 10 year maturity of 01.08.25 which increased by 20 basis points to 9.65%. Two way quotes on maturities consisting of 01.09.2016, 15.05.17, 01.06.18 and 01.05.20 were seen increasing during the week to close the week at levels of 7.00/20, 7.20/30, 7.85/90 and 8.43/48 respectively.

Liquidity infused into money markets during the week

The Open Market Operations Department of the Central Bank infused liquidity into the system twice during the week, on an overnight basis, by way of a Reverse Repo auction, for the first time since March 2014. Furthermore, the Standing Lending Facility Rate (SLFR) of 7.50% was also accessed for the first time in over three months, causing overnight call money and Repo rates to increase to levels of 6.23% and 6.24%, as against the previous week's averages of 6.12% and 5.90%.

Rupee continues depreciating trend

The deprecating trend of the rupee continued during the week, as the USD/LKR rate on spot contracts was lowered by a further 10 cents to Rs. 134.00.

The daily average USD/LKR traded volumes for the first four days of the week stood at $ 75.51 million.

Some of the forward dollar rates that prevailed in the market were one month – 134.62/72; three months – 135.88/98 and six months – 137.68/78.