By Wealth Trust Securities

Secondary market bond yields were seen increasing marginally ahead of today's monetary policy announcement, which is due at 6.00 pm, for August 2016.

The Central Bank of Sri Lanka increased its policy rates by 50 basis points at last month 's monitory policy meeting, signalling its second policy tightening cycle for 2016, following an SRR (Statutory Reserve Requirement) hike of 150 basis points in January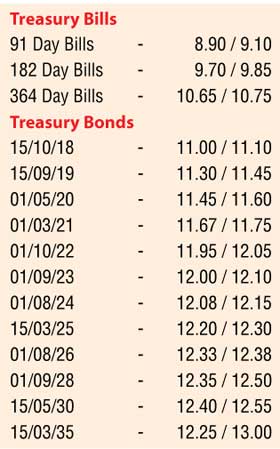 2016.

Activity moderated during the day with the liquid maturities of 01.03.21, 01.08.24, 01.08.25 and 01.08.26 hitting intraday highs of 11.71%, 12.12%, 12.30% and 12.36% respectively against its opening lows of 11.67%, 12.10%, 12.25% and 12.30%.

Meanwhile, in the money market, net liquidity continued to increase as it was seen reversing back to a surplus of Rs. 5.29 billion, with call money and repo rates continuing to remain steady to average 8.40% and 8.49% respectively. An amount of Rs. 10 billion was injected on an overnight basis at a weighted average of 8.44% by the OMO Department of the Central Bank of Sri Lanka.


Rupee appreciates


On the US$/LKR, spot next as well as one-week forward contracts were seen appreciating marginally to close the day at Rs. 145.60/70 and Rs. 145.70/85 respectively against its previous day's closing levels of Rs. 145.70/85 and Rs. 145.85/95.

The total USD/LKR traded volume for 26 August 2016 was $ 70.25 million.

Some of the forward USD/LKR rates that prevailed in the market were one month - 146.45/55; three months - 148.05/35 and six months - 150.65/80.