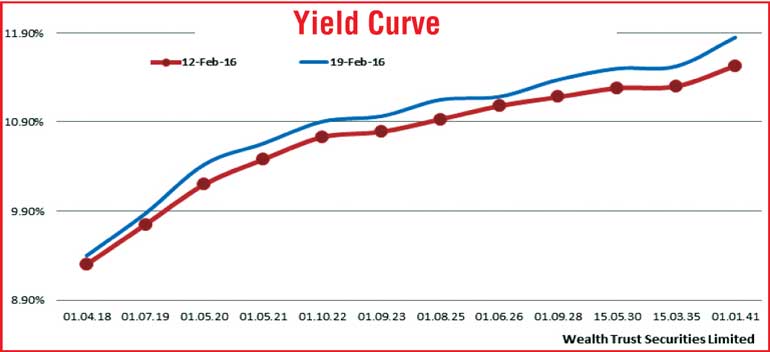 By Wealth Trust Securities

Secondary market bond yields increased during the week, as a result of renewed foreign selling of rupee bonds and the outcome of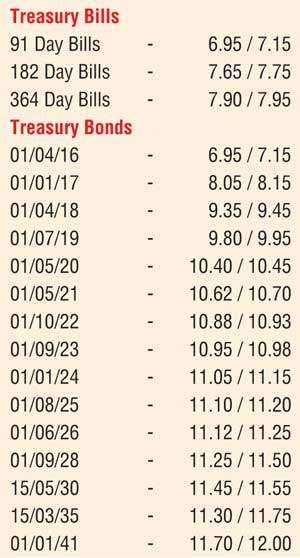 the weekly Treasury bill auction, where the weighted average yield of the 91-day maturity increased to over a two year high of 7.14%.

All other bids for the 182-day and 364-day maturities were rejected, with the auction netting in only an amount of Rs. 5 billion against the total offered amount of Rs.23 billion. The foreign holding in rupee bonds was seen reducing by a further Rs. 10.07 billion for the week ending 17 February recording its sixth consecutive week of outflows.

The liquid long end maturity of 15 May 2030 reflected the sharpest increase of approximately 32 bps to a high of 11.60% in comparison with the previous weeks closing yields. This trend was closely followed by the maturities of 1 October 2022 and 1 September 2023 which increased by 25 and 23 basis points respectively to highs of 10.98% and 11.02%, amidst large trades.

On the medium end of the yield curve the four year maturity of 1 May 2020 increased by 30 basis points to 10.52% and the five-year maturity of 1 May 2021 increased by 22 basis points to 10.70%. Maturities on the shorter end of the yield curve consisting of bonds maturing in 2018 and 2019 traded within a range of 9.37% to 9.43% and 9.80% to 9.95% respectively.

However, buying interest at these levels curtailed any further upward movement, with most market participants adopting a "wait and see" approach to the Central Bank's monetary policy announcement for the month of February which was due at 7:30 p.m. on Friday 19 February.

Meanwhile in money markets, the overnight surplus liquidity witnessed some fluctuations during the week, as it decreased from weekly highs of Rs. 34.36 billion to a one month low of Rs. 11.90 billion, prior to closing the week at Rs. 21.21 billion. The overnight call money and repo rates averaged at 6.94% and 6.67% respectively with the Open Market Operations (OMO) department of the Central Bank conducting overnight reverse repo auctions throughout the week in order to infuse liquidity to the market. The Central Bank bill holding was seen increasing to close the week at Rs.190 billion.

Rupee depreciates further during the week

The rupee on active one week forward contracts depreciated further to close the week at Rs.144.60/65 against its previous week's closing levels of Rs.144.38/42 on the back of importer demand.

The daily USD/LKR average traded volume during the first four days of the week stood at $ 81.13 million.

Some of the forward dollar rates that prevailed in the market were: one month – 145.10/30; three months – 146.40/60; and six months – 148.40/60.