By Wealth Trust Securities

The secondary bond market witnessed moderate activity yesterday as continued selling interest led to yields increasing for a second consecutive day across the yield curve. The liquid maturities of 01.03.21, 01.10.22, 01.08.24 and 01.08.26 saw its yields hit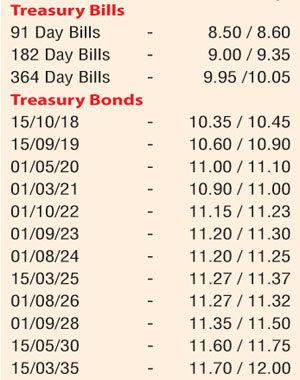 intraday highs of 10.90%, 11.19%, 11.20% and 11.35% respectively against its previous day's closing levels of 10.80/90, 11.05/15, 11.15/23 and 11.17/25. Meanwhile in secondary market bills, durations centering the 364 day maturity continued to change hands within the range of 9.95% to 10.05%.

In money markets, despite the net market deficit increasing to Rs. 56.29 billion yesterday, the average overnight repo rate dipped to 8.66% as the Open Market Operations (OMO) department of the central bank injected an amount of Rs.48.03 billion at a weighted average of 8.49% by way of an overnight reverse repo auction. The overnight call money rate stood steady at 8.40%.
Rupee appreciates marginally
The rupee on spot contracts in the Forex market was seen appreciating marginally yesterday to close the day at Rs.146.60/70 against its previous day's closing of Rs.146.85/00. The total USD/LKR traded volume for 30 September 2016 was $ 55.60 million.

Some of the forward USD/LKR rates that prevailed in the market were 1 Month - 147.50/60; 3 Months - 149.10/20 and 6 Months - 151.50/60.