By Wealth Trust Securities

The secondary bond market yields reflected an upward trend yesterday reversing a two day downward trend as profit taking on the liquid maturities of 15.10.21, 01.01.24 and 01.06.26 saw its yields hit intraday highs of 12.18%, 12.50% and 12.55% respectively against its days opening lows of 12.10%, 12.35% and 12.48%.

In addition two-way quotes on the maturities of 2018s (i.e. 15.10.18 and 15.11.18) and the 01.05.20 were seen increasing as well. In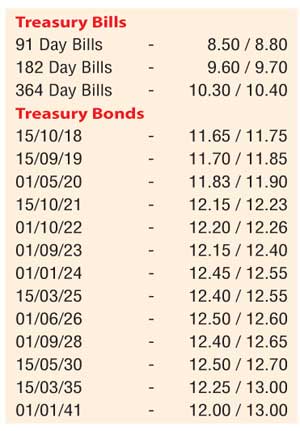 secondary bill markets, durations centering the 364 day maturity were seen changing hands within the range of 10.35% to 10.40%. This was ahead of inflation numbers for the month of May. Inflation for the month of April was seen increasing on both its point to point and annual average to 3.1% and 1.3% respectively. Meanwhile in money markets, the net surplus liquidity in the system increased to Rs.19.59 billion yesterday as overnight call money and repo rates remained steady to average at 8.15% and 7.98% respectively.
Rupee continues to dip

The rupee on the spot next contract was seen dipping further yesterday to close the day at Rs.148.10/50 against its previous trading day's closing level of Rs.147.55/60 on the back of continued importer demand. However activity was seen shifting to the one week forward contracts as it was seen closing the day at Rs.148.25/50 against its opening level of Rs.147.80/10. The total USD/LKR traded volume for 27 May was $ 15.00 million.

Some of the forward USD/LKR rates that prevailed in the market were one month – 149.00/30; three months – 150.60/00; and six months – 152.90/30.