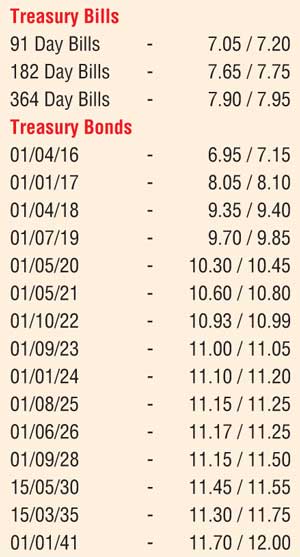 By Wealth Trust Securities

The secondary bond market continued to witness an increasing trend for a fourth consecutive trading day on the back of renewed foreign selling in rupee bonds along with local selling and a 'wait-and-see' policy adopted by most market participants ahead of the Central Bank's monetary policy announcement for the month of February due on 19 February at 7:30 p.m.

Selling interest on the 1 October 2022 and 1 September 2023 maturities saw its yields increase to intraday highs of 10.98% and 11.05% respectively against its days opening lows of 10.89% and 10.95% on the back of considerable volumes changing hands.

In addition, the maturities of 1 January 2024, 1 August 2025 and 1 June 2026 were seen changing hands within the range of 11.15% to 11.20%, 11.15% to 11.17% and 11.20% to 11.22% respectively as well while on the short end of the curve 2019 maturities changed hands within the range of 9.80% to 9.86%.

Meanwhile, yesterday weekly Treasury bill auction saw all bids for the 182 day and 364 day maturities been rejected for a second occasion over the past four weeks.

However, the weighted average on the 91 day bill was seen increasing to over a two year high of 7.14% recording a week on week increase of 13 basis points as an amount of Rs. 5 billion was accepted against a total offered amount of Rs 23 billion with the bid to offer ration dipping to a three week low of 2.05:1.

Meanwhile in money markets, the OMO (Open Market Operations) department of Central Bank infused liquidity for a second consecutive day for an amount of Rs. 5.6 billion on an overnight basis at a weighted average rate of 6.63% as net surplus liquidity dipped to one month low of Rs.11.90 billion yesterday. The overnight call money and repo rates increased further to average 6.95% and 6.72% respectively.

Rupee on active one week forward contracts appreciates

The USD/LKR rate on the active one week forward contract was seen appreciating yesterday to close the day at Rs. 144.45/50 against its previous day's closing levels of Rs. 144.50/58. The total USD/LKR traded volume for 16 February was $ 171.60 million.

Some of the forward USD/LKR rates that prevailed in the market were: one month – 144.90/05; three months – 146.25/50; and six months – 148.30/50.