By Wealth Trust Securities

Activity in secondary bond markets increased yesterday as continued buying interest mainly on the long end of the yield curve saw yields dip for a second consecutive day.

The liquid maturities of 1 August 2025, 15 May 2030, 15 March 2035 and 1 January 2041 saw its yields hit intraday lows of 10.70%, 11.10%, 11.30% and 11.70% respectively against its days opening highs of 10.85%, 11.20%, 11.35% and 11.80%.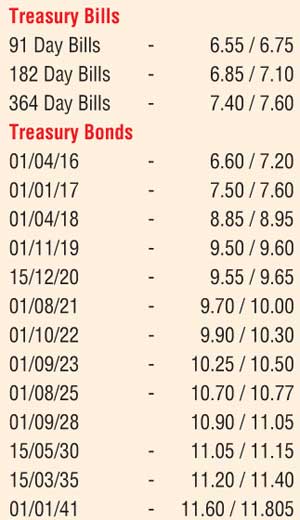 In addition the maturities of 1 November 2019 and 15 December 2020 were seen changing hands within the range of 9.45% to 9.55% and 9.65% to 9.75% respectively as well.

This was ahead of today's weekly Treasury bill auction conducted a day ahead due to a shortened trading week, at where a total amount of Rs. 18 billion will be on offer consisting of Rs. 4 b on the 91 day, Rs. 6 b on the 182 day and Rs. 8.0 b on the 364 day maturities respectively. At last week's auction, weighted averages increased by 14, 10 and 12 basis points respectively to 6.59%, 6.93% and 7.42%.

In money markets, overnight call money and repo rates remained mostly unchanged to average 6.55% and 6.43% respectively as the surplus liquidity in the system increased further to Rs. 95.77 billion yesterday.
Rupee remains steady

The USD/LKR rate on spot contracts remained mostly unchanged to close the day at Rs.143.80/85 yesterday for a second consecutive day. The total USD/LKR traded volume for 7 January was $ 49.23 million.

Some forward USD/LKR rates that prevailed in the market were one month – 144.40/50; three months – 145.50/70; and six months – 147.25/50.