Ends week on a positive note leading to policy announcement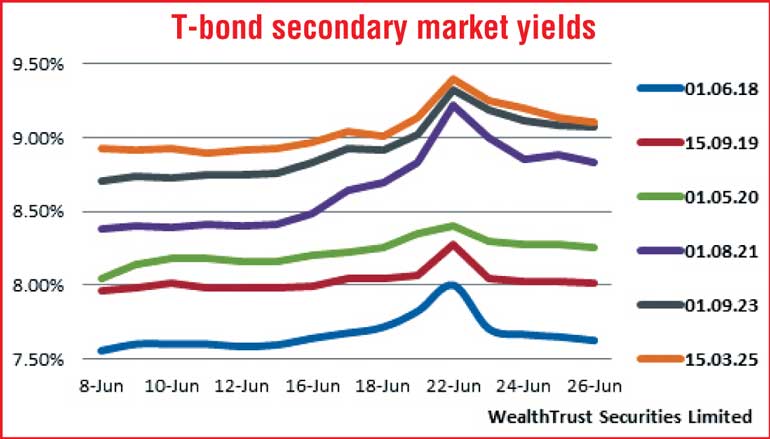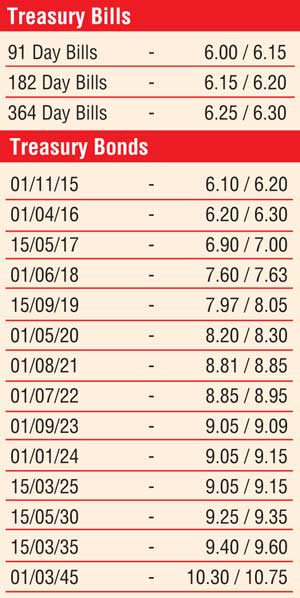 By Wealth Trust Securities

The secondary bond market witnessed a week of heavy volatility as yields were seen continuing its increasing trend during the first half of the week ending 26 June, on the back of considerable foreign selling in Rupee bonds.

Yields on the liquid maturities of 1 June 2018, 1 May 2020, 1 August 2021, 1 July 2022, 1 September 2023 and 15 March 2025 was seen increasing to two month highs of 8.00%, 8.35%, 9.25%, 9.20%, 9.35% and 9.40% respectively.

However, following the outcome of the two Treasury bond auctions conducted on Tuesday, at where the weighted averages recorded robust outcomes, yields were seen reversing its upward trend and dipped once again to hit its weeks opening lows of 7.58%, 8.20%, 8.80%, 8.90%, 9.00% and 9.05% on the back of considerable buying interest.

Moreover, the sentiment in markets turned bullish towards the latter part of the week as well ahead of the monetary policy announcement for the month of June due today (29). In addition, The Public Debt Department (PDD) of Central Bank will auction Rs. 30 billion in Treasury bonds today, consisting of Rs. 10 billion each on a 4.11 year maturity of 1 June 2020, a 6.06 year maturity of 1 January 2022 and an 8.02 year maturity of 1 September 2023.

Meanwhile in money markets, the overnight repo rate increased marginally during the week ending 26th June, to average 5.82% against its previous week's average of 5.78% as surplus liquidity decreased further to average Rs.62.62 billion for the week against its previous week's average of Rs. 71.76 billion. Call money remained steady to average 6.10% for the week.


Rupee appreciates to one-month high during the week

The expectation and realisation of dollar inflows saw the USD/LKR rate on spot contracts appreciate to a one month high of Rs. 133.70 during the week against its previous weeks closing level of Rs. 134.10. The daily average USD/LKR traded volume for the first four days of the week was at $ 44.38 million.

Some of the forward dollar rates that prevailed in the market were three months – 135.25/35 and six months – 136.80/05.