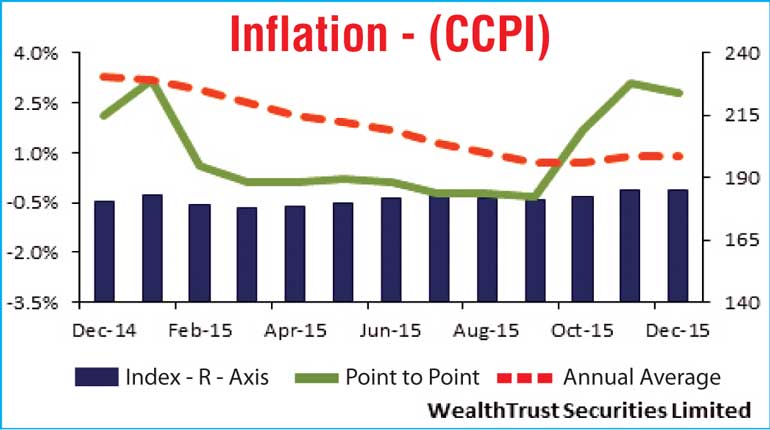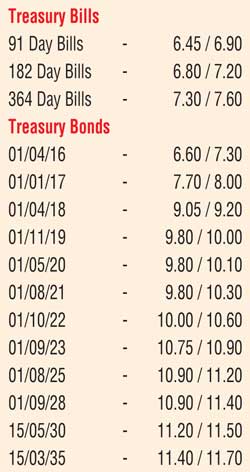 By Wealth Trust Securities

The secondary bond market was seen closing the day broadly steady yesterday despite the increase in the Statutory Reserve Requirement (SRR) for all commercial banks in Sri Lanka by 150 basis points to 7.50%.

The increase, the first such change since June 2013 when it was reduced by 200 basis points, will see an amount of approximately Rs.50 billion been drained out of the banking system with effect from 16th January 2016. Active two-way quotes were witnessed on the maturities of 01.04.18, 01.09.23 and 15.03.35 at levels of 9.05/20, 9.75/90 and 11.40/70 respectively. Meanwhile, inflation for the month of December saw its point to point reduce for the first time in three months to 2.80% against the previous month of 3.10% while its annualised average remained unchanged at 0.90%.

In money markets, the overnight REPO rate increased marginally to average 6.31% yesterday while the overnight call money rate remained mostly unchanged to average 6.40% as surplus liquidity stood at Rs.81.68 billion.

Rupee traded within a narrow range

In Forex markets, the USD/LKR rate on spot contracts were seen trading within a narrow range of Rs.144.15 to Rs.141.17 yesterday against its previous day's closing levels of Rs.141.15/25. The total USD/LKR traded volume for 30 December 2015 was $ 57.77 million.
Some of the forward USD/LKR rates that prevailed in the market were 1 Month - 144.80/10; 3 Months - 146.00/30 and 6 Months - 147.60/90.