Monitory policy tightened for the first time since April 2012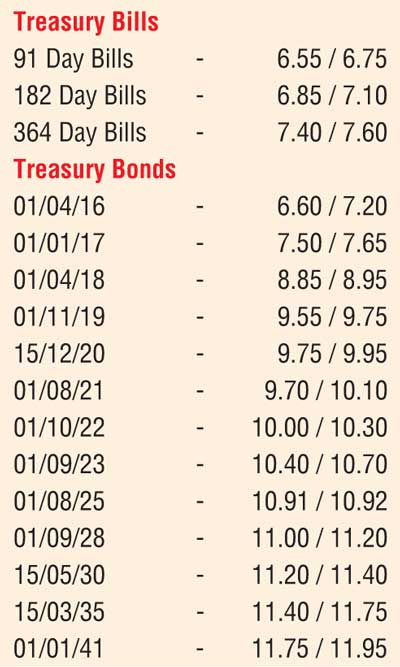 By Wealth Trust Securities

The year 2016 began on a bullish note for the secondary bond market as buying interest on its first trading day saw yields dip marginally last Friday. This was despite the Central Bank of Sri Lanka tightening monitory policy for the first time since April 2012 at its policy meeting for December following the FOMC (Federal Open Market Committee) decision to increase its policy rates by 25 basis points in December as well.

The monitory policy tool of SRR (Statutory Reserve Requirement) was adjusted upward for the first time since April 2011 by 150 basis points with the objective of draining out liquidity from the banking system. In addition, the weighted averages at the weekly Treasury bill auction increased for a fourth consecutive week.

Secondary market yields on the liquid maturities of 01.04.2018, 01.11.2019 and 01.09.2023 was seen dipping to weekly lows of 8.75%, 9.55% and 10.50% respectively on Friday in comparison to its week opening highs of 9.40%, 10.00% and 10.85% as activity picked up marginally.

In money markets, the overnight Repo rate increased marginally to average 6.25% despite average surplus liquidly increasing to Rs. 94.38 billion during the week ending 1 January 2016. However the overnight call money rate remained mostly unchanged to average at 6.41%.

Rupee hits fresh low during the week

The USD/LKR on spot contracts reached an all-time low of Rs. 144.25 during the week to close the week of 1 January 2016 at Rs. 144.20/30 against its previous weeks closing levels of Rs. 143.70.85 on the back of importer demand. The daily USD/LKR average traded volume for the first four days of the week stood at $ 67.87 million.

Some of the forward dollar rates that prevailed in the market were one month – 144.75/00; three months – 146.05/20 and six months – 147.55/65.