By Wealth Trust Securities

The secondary bond market continued to remain active yesterday as yields were seen declining for a second consecutive day. The liquid maturities of 01.10.22, 01.09.23, 01.08.24, 01.08.26, 01.09.28 and 15.05.30 were seen hitting intraday lows of 11.20%, 11.25%, 11.30%,11.35%, 11.53% and 11.60% respectively against its previous day's closing levels of 11.28/32, 11.35/40,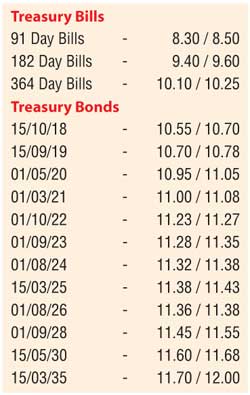 11.32/40, 11.42/45, 11.50/65 and 11.75/85. Nevertheless profit taking at these levels saw yields edging up marginally towards the later part of the day to intraday highs of 11.27%, 11.35% each, 11.40%, 11.55 and 11.65. In addition, 2018 maturities and the 15.09.19 maturity were seen changing hands within the range of 10.57% to 10.70% and 10.78% to 10.80% respectively as well. In secondary bill markets, durations centering the 182 day and 364 day maturities were quoted at levels of 9.40/60 and 10.10/25 respectively.

Meanwhile in money markets, overnight call money and repo rates averaged at 8.42% and 8.63% respectively as the Open Market Operations (OMO) department of the Central Bank was seen injecting an amount of Rs.20.00 billion yesterday at a weighted average of 8.48% by way of an overnight reverse repo auction. The net market deficit stood at Rs. 22.87 billion.
Downward trend in Rupee continues
Meanwhile in Forex markets, the active spot next contract depreciated further yesterday to close the day at Rs. 146.40/45 against its previous day's closing level of Rs. 146.35/40 while spot contracts closed at Rs. 146.30/40. The total USD/LKR traded volume for the 23rd of September 2016 was $ 39.45 million.

Some of the forward USD/LKR rates that prevailed in the market were 1 Month - 147.15/25; 3 Months - 148.70/00 and 6 Months - 151.30/45.