By Wealth Trust Securities

The secondary market for bonds was at a complete standstill yesterday ahead of today's fourth round of bond auctions to be conducted within the past two weeks. Two way quotes were seen widening further as liquidity in the market dried up as well. Nevertheless activity in the secondary bill market was evident with the January and March 2016 maturities changing hands within the range of 6.40% to 6.45% and 6.60% to 6.65% respectively while on the short end of the curve early 2017 maturities were seen changing hands at levels of 8.00%.

The bond auction will have on offer a total amount of Rs. 13 billion, consisting of Rs. 3.00 billion on a 3.10 year maturity (01.11.2019)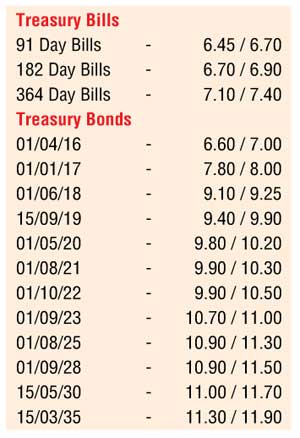 and Rs. 5.00 billion each on a 5.10 year (15.10.2021) and 12.08 year (01.09.2028) maturity. The recently recorded weighted averages on similar maturities were 9.14% on a 15.09.2019, 9.90% on a 01.08.2021 and 10.39% on the 01.09.2028.

In money markets, the OMO (Open Market Operations) department of Central Bank was seen mopping up an amount of Rs. 23.65 billion for a period of 31 days at a weighted average of 6.42% as surplus liquidity increased to Rs. 103.73 billion yesterday. The overnight call money and repo rates remained steady to average 6.40% and 6.21% respectively.

The rupee on spot contracts depreciated yesterday to close the day at Rs. 143.85/95 in comparison to its previous day's closing levels of Rs. 143.70/85 subsequent to hitting an all-time new low of Rs. 143.95. The total USD/LKR traded volume for 23 December was US $ 33.90 million.

Some of the forward USD/LKR rates that prevailed in the market were 1 Month - 144.55/65; 3 Months - 145.60/95 and 6 Months - 146.80/10.