By Wealth Trust Securities

Activity in the secondary bond market dried up once again yesterday, with only a limited amount of quotes being seen. Some activity was witnessed on the short end of the yield curve, with the 01.04.18 changing hands within the range of 11.00% to 11.02%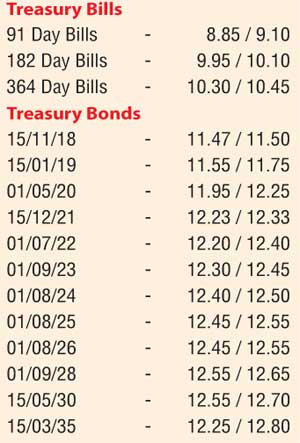 and the 15.11.18 moving within the range of 11.45% to 11.47%.

Meanwhile in money markets, overnight call money and repo rates averaged at 8.40% and 8.46% respectively with the net surplus liquidity standing at Rs. 61.43 billion. The OMO (Open Market Operations) Department of the Central Bank of Sri Lanka was seen mopping up an amount of Rs. 57.87 billion on an overnight basis by way of a Repo auction at a WAvg of 7.54%.
Rupee dips further
The dollar/rupee rate on two week and one month forward contracts were seen losing further to close the day at Rs. 151.05/15 and Rs. 151.55/70 respectively, in comparison to Friday's closing levels of Rs. 150.85/00 and Rs. 151.40/70.

The total USD/LKR traded volume for 20 January 2017 was $ 45 million. Some of the forward USD/LKR rates that prevailed in the market were 3 months - 153.10/35 and 6 months -155.50/80.