By Wealth Trust Securities

The continued demand for higher yields by market participants for medium-term maturities as well was seen as the reason behind all bids being rejected at yesterday's Treasury bond auction following the outcome of the weekly Treasury bill auction.

Activity in secondary bond markets dried up as well, with early 2017 maturities continuing to change hands within the range of 9.20% to 9.30%. The downgrade to Sri Lanka's rating outlook to Negative from Stable by Standard and Poor's rating services was seen contributing to this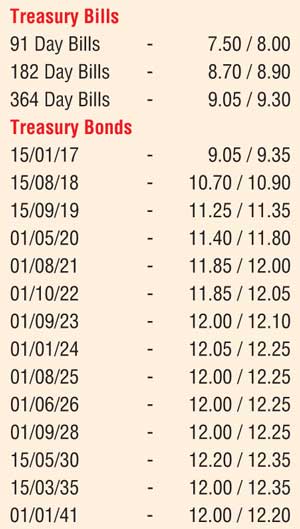 lacklustre sentiment in secondary markets.

Money market rates remains under pressure

Meanwhile in money markets, Overnight call money and Repo rates were seen increasing further to average 7.78% and 7.85% respectively as net surplus liquidity stood at a deficit for a second consecutive day.

The Central Bank of Sri Lanka's Standard Lending Facility Rate (SLFR) of 8.00% was accessed for a second consecutive day for an amount of Rs. 10.90 billion while an amount of Rs. 4.23 billion was deposited at its Standard Deposit Facility Rate (SDFR) of 6.50% bringing the net deficit to Rs. 6.66 billion.

Two-way quote on rupee narrows

In Forex markets, the USD/LKR rate on active one week forward contracts narrowed to close the day at Rs.145.20/25 against its previous day's closing of Rs.145.20/35. The total USD/LKR traded volume for 9 March was $ 54.70 million.

Given below are some forward USD/LKR rates that prevailed in the market: one month – 145.90/10; three months – 147.20/40; six months – 149.85/95.