Union Assurance General Ltd. (UAG) has announced the appointment of Dr. Sanjeev Jha as their Chief Executive Officer. With over 25 years of experience in financial services, Dr. Jha brings with him a wealth of knowledge and experience to UAG, a recent addition to Canadian-based Fairfax Financial Holdings Ltd. (Fairfax Financial).

Beginning as a Research Analyst for the Economic Times of India, Dr. Jha has embarked upon a number of postings in the financial services sector. In 2006, he took up responsibilities as the CEO and Managing Director for Royal and Sun Alliance (RSA) Insurance, Oman, which is a part of the UK-based RSA Group, one of the world's leading multinational insurance groups. With significant transformations and milestones being achieved under his leadership, the RSA operations in Oman doubled within a three year period and this brand is now among the top three insurance brands in the country.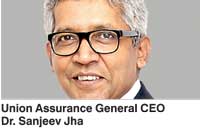 Prior to his appointment at UAG, Dr. Jha held the post of Director, Sales and Marketing at Al Ahlia Insurance in Oman (also part of the RSA Group).Over the years, he has been instrumental in making Al Ahlia the largest Non-life P&C Insurance Company in Oman (in terms of NWP) and the leading insurance brand in that country.

"Today's pace of change in markets is exponential and this is the ideal period for Sanjeev to step in as the CEO," stated UAG Chairman Ramaswamy Athappan. "We've selected a very strong leader to provide direction to the company during this transitional period. Sanjeev is unique in his ability to translate vision and strategy into world-class execution, bringing together teams and ecosystems to drive results. We feel he's the perfect fit for UAG and see a thriving future for the company under his able leadership."

"I'm honoured to be serving UAG as the CEO and look forward to providing value to our customers, our extremely professional distribution partners, whether they be brokers, affinity partners and agents and, importantly, creating and nurturing world-leading talent," stated Sanjeev. "The General Insurance landscape here in Sri Lanka is a competitive and dynamic one, but we are confident of our ability to win. We have a solid brand, super distribution capabilities, robust technical strength and market-leading service delivery."

Union Assurance General (UAG) is now under the corporate umbrella of Fairfax Asia, a wholly owned subsidiary of Fairfax Financial, a Canadian-based holding company which, through its subsidiaries, is engaged in property and casualty insurance and reinsurance and investment management. Fairfax Financial has international insurance and reinsurance businesses with a global underwriting reach, longstanding relationships and a broad product range. Fairfax Financial has a strong foothold in the growing insurance and reinsurance markets of Southeast Asia, the US, Europe, the Middle East and Brazil. UAG is further backed by John Keells Holdings PLC, who continues to hold a 22% stake in the company.