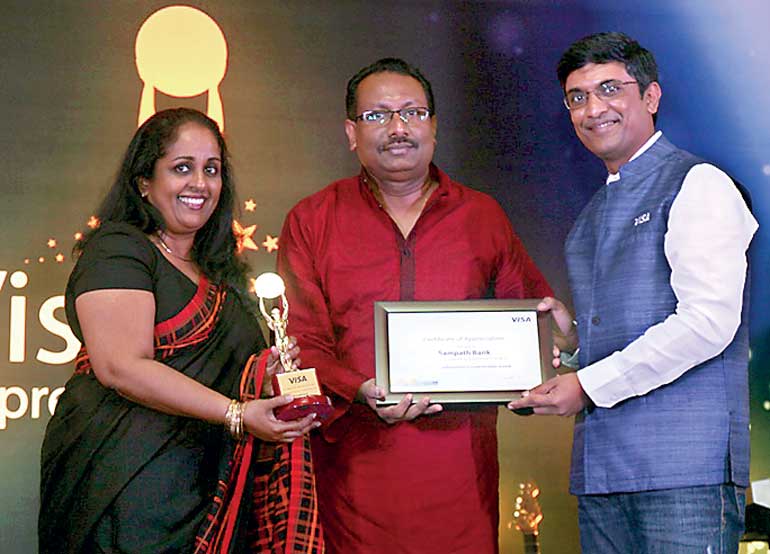 From left: Sampath Bank Assistant General Manager Card Centre Nirosha De Silva and Sampath Bank Manager Card Centre Chaminda Jayasinghe Operations receiving the awards from Visa Group Country Manager India and South Asia T.R. Ramachandran
SampathCards was once again placed in the limelight with the recognition of two prestigious awards at the recently concluded Visa India and South Asia Client Forum 2015. Organised by VISA for the first time, this awards platform was designed to recognise its top banking partners for their contributions and excellence in working with VISA over the years.

Held at the Park Hyatt Resort and Spa, Goa, India, this awards ceremony was attended by over 140 officials from 70 banks in South Asia. SampathCards stood out for 'Breaking Barriers in Point of Sale and eCommerce Acceptance in Sri Lanka' and for their 'Outstanding achievement in Credit Card Portfolio growth in Sri Lanka'.

VISA selected winners through stringent selection criteria by an eminent panel of judges based on five categories, including innovation, portfolio growth, growth in acceptance, operational excellence and speed to market. The awards won feted Sampath Bank the only banking institution in the South Asian region to be awarded in the two main categories namely; portfolio growth and card acceptance.

Speaking on this significant achievement, Tharaka Ranwala, Deputy General Manager, Marketing and Business Development, Sampath Bank said: "We at Sampath Bank are humbly proud to be recognised by VISA in not one but two eminent award categories. No doubt this achievement is confirmation of the continued focus Sampath Bank places on cardholder and merchant satisfaction in addition to operational diligence that we adhere to. This achievement serves as yet another motivational factor and will steer us to work just as vigorously in order to set industry benchmarks in high standards of performance in the near future."

SampathCards has over the years steered exceptional marketing programs and campaigns that have supported the bank in achieving the highest growth in usage volumes in the industry. Furthermore, SampathCards has reigned supreme with the highest growth in POS and eCommerce acquiring abilities in the banking industry. It is for this reason that SampathCards was aptly recognised by VISA International in the portfolio growth and growth in acceptance categories respectively.

SampathCards continues to evolve in their service offerings and is now renowned as the nation's sought after credit card brand that provides Cardholders with exclusive products and services that are coupled with great convenience and value added offers. These awards are a strong depiction of the bank's commitment towards acknowledging and identifying their customers' changing preferences and catering to their evolving needs. SampathCards will continue to surpass the industry expectations and thus cater to the diverse lifestyles of the nation.