Enables cash withdrawals from Sampath ATM network for Union Pay cardholder
Sampath Bank, one of the largest private commercial banks in Sri Lanka, recognised for its invaluable and numerous services in banking announced its partnership with UnionPay, one of the largest card networks in the world. This significant partnership was made official at a business launch held in the presence of Sampath Bank representatives and delegates from UnionPay International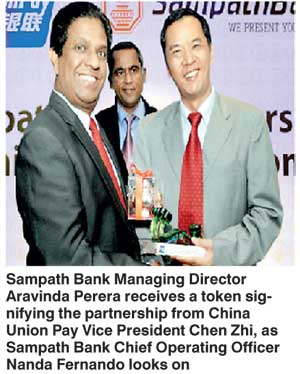 at Hilton Colombo Residence (Jaic) in Colombo 02.

Reiterating their commitment to providing customers with exclusive benefits and convenience, Sampath Bank's novel partnership with UnionPay will offer UnionPay Cardholders the benefit of withdrawing money from over 350 Sampath Bank ATMs available island wide.

Commenting on this significant partnership, Sampath Bank DGM – Marketing and Business Development Tharaka Ranwala said, "The partnership between Sampath Bank and UnionPay International aims to add value to the travel experience of tourists and business individuals who are UnionPay Cardholders. This echoes our commitment to give back to those who contribute to the success and development of the nation.

"Additionally, this collaboration extends our product portfolio which also reflects our aspirations to provide individuals with convenience and exclusive benefits that are greatly sought after. We at Sampath Bank are greatly honoured to have been able to take on this exclusive amenity which serves as a stepping stone to broaden our reach and diversification of our portfolio further."

Through cooperation with more than 300 institutions worldwide, UnionPay International has enabled UnionPay card acceptance in over 150 countries and regions. Currently, UnionPay cards are accepted by over 26 million merchants and 18 million ATMs worldwide. With over 5 billion UnionPay cards been issued globally, UnionPay provides services to the world's largest cardholder base and has become the preferred payment service provider of Chinese outbound cardholders.

Since its inception to the banking industry, Sampath Bank has continued to maintain its position as one of the largest private banks in Sri Lanka. By recognising the dynamic changes in consumers' needs and preferences, Sampath Bank has remained committed and true to its promise of offering invaluable and highly sought after products and services to Sampath customers. The partnership with UnionPay International is a further replication of Sampath Bank's undying commitment to overcome barriers and venture into newer opportunities that empowers the nation and its citizens to reach greater heights with cutting edge technology and product innovations.

Representatives of Sampath Bank seen together with the representatives of UnionPay International at the official business launch