By Wealth Trust Securities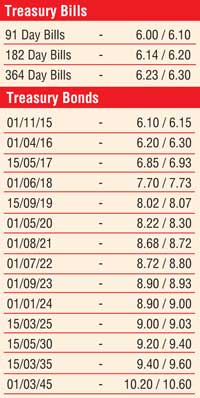 The USD/LKR rate on spot contracts dipped yesterday by 20 cents to go below the Rs. 134 psychological level for the first time in just under three years to close the day at Rs. 134.20 close to its all-time low level of Rs. 134.30 recorded on 28 June 2012. In line with this, the three-month forward contract was seen dipping as well to Rs 136.05/20 against its previous day's closing level of Rs. 135.90/10.

In secondary bond markets, the upward trend in yields continued during morning hours of trading on the back of selling interest on the 1 May 2021 and the 1 July 2022maturities. Yields on these maturities were seen hitting intraday highs of 8.75% and 8.85% respectively on the back of thin volumes changing hands.

However, fresh buying interest from this point onwards curtailed the upward movement and yields were seen dipping once again to hit lows of 8.70%, 8.77% and 8.91% on the liquid maturities of 1 August 2021, 1 July 2022 and 1 September 2023 respectively. In addition, a limited amount of activity was witnessed on the 1 June 2018 maturity as well within the range of 7.68% to 7.72%.

Meanwhile in money markets, overnight call money and repo rates remained steady to average 6.10% and 5.80% respectively as surplus liquidity stood at Rs. 70.83 b yesterday.