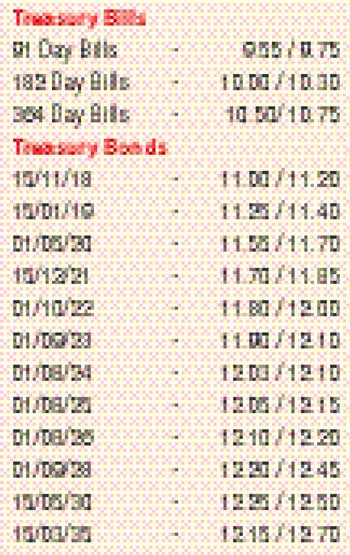 Reuters: The rupee ended steady on Tuesday amid expectations of dollar inflows from a sovereign bond issuance and syndicated loans, although importer demand for the US currency after a long weekend weighed on the market, dealers said.

Sri Lanka expects to raise up to $ 1.5 billion via a sovereign bond issuance and another $ 1 billion from two separate syndicated loans.

Rupee forwards were active, with two-week forwards closing at 153.30/35 per dollar, compared with Friday's close of 153.30/40. The markets were closed on Monday for the International Labour day.

"The (importer) demand was there today, after the long weekend, but the rupee traded steady in dull trade with many (investors) waiting for the outcome of the bond sales," a currency dealer said, asking not to be named.

Dealers expect the rupee to stabilise on higher dollar liquidity after the expected inflows.

A Government move to double the borrowing limit of development bonds to $ 3 billion in 2017 is also expected to increase liquidity.

Finance Minister Ravi Karunanayake on Thursday blamed "technical difficulties" for a two-month delay in receiving an around $ 160 million loan tranche from the IMF and said the disbursement was expected after 14 June.

Sri Lanka has seen a rise in foreign inflows into equities and government securities since early this month, with foreign investors buying shares worth a net Rs. 13.7 billion in 26 consecutive sessions through Friday.

Foreign investors also net bought government securities worth Rs. 908.9 million ($ 5.98 million) in the week ended 26 April, extending the net inflow to Rs. 7.2 billion in four consecutive weeks. But they have net sold Rs. 57 billion worth of government bonds so far this year.
Bond yields increase marginally ahead of weekly bill
By Wealth Trust Securities

In the secondary bond market, yields were seen increasing marginally yesterday mainly on the liquid maturities of 01.08.2024 and 01.08.2026 from its opening lows of 12.00% and 12.05% respectively to highs of 12.12% each.

In addition, a limited amount of activity was witnessed on the 2019 maturities within the range of 11.18% to 11.53% and the 2021 maturities within 11.70% to 11.80% as well.

At today's auction, a total amount of Rs. 33 billion will be on offer which will consist of Rs. 16.0 billion on the 182 day maturity and Rs. 17.0 billion on the 364 day maturity. At last week's auction, the weighted average on the 182 day and 364 day bills declined by nine basis points each to 10.70% and 11.02% respectively while all bids received on the 91 day bill were rejected.

The total secondary market Treasury bond Transacted volume for 28 April 2017 was Rs. 17.23 billion.

In money markets, the overnight call money and repo rates averaged 8.71% and 8.67% respectively as the Open Market Operations (OMO) Department of the Central Bank of Sri Lanka was seen injecting an amount of Rs. 7.00 billion on an overnight basis by way of a Reverse Repo auction at a weighted average of 8.75% yesterday. The net liquidity shortage decreased to Rs. 7.76 billion.
Rupee losses marginally
The USD/LKR rate on two week forward contracts depreciated marginally to close the day at levels of Rs. 153.30/40 against its previous day's closing levels of Rs. 153.20/30 on the back of importer demand while spot next contracts and three weeks forward contracts were quoted at levels of Rs. 152.90/93 and Rs. 153.55/60 respectively.

The total USD/LKR traded volume for 28 April 2017 was $ 92.11 million.

Some of the forward USD/LKR rates that prevailed in the market were one month - 153.80/90; three months - 155.90/10 and six months - 158.90/10.