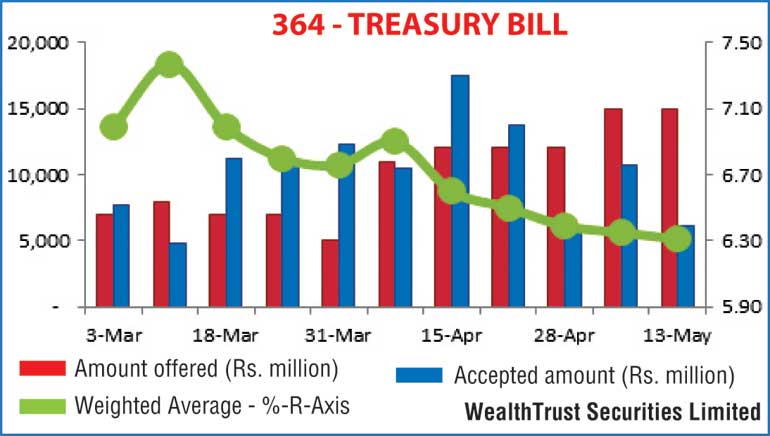 Over Rs 38 billion accepted as W.Avg's hit eleven week low


By Wealth Trust Securities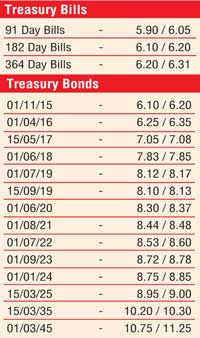 The weighted averages (W.Avg's) at yesterday's weekly Treasury bill auction dipped across the board to an eleven week low with its total accepted amount hitting a 97 week high of Rs 38.80 billion as well.


It was the 182 day bill which reflected the highest accepted amount of Rs. 22.3 billion or 57.47% of the total accepted amount as its W.Avg dipped by 04 basis points (bp) to 6.22% closely followed by the 364 day and 91 day bills by 04 bp and 02 bp respectively to 6.31% and 6.22%.

In line with the expectations and the final outcome of the bill auctions, secondary market bond yields were seen decreasing yesterday. The liquid maturities of 15.05.2017, 01.06.18, 15.09.19, 01.05.2020, 01.08.21 and 01.09.23 were seen hitting intraday lows of 7.02%, 7.78%, 8.08%, 8.32%, 8.41% and 8.70% respectively against its previous day's closing levels of 7.10/15, 7.89/92, 8.12/18, 8.40/45, 8.52/54 and 8.73/78. In secondary bill markets, November 2015 bills were quoted at levels of 6.10% to 6.20% post auction.


Meanwhile in money markets, overnight call money and repo rates remained steady to average 6.13% and 6.10% respectively as overall surplus liquidity increased further to Rs.123.93 billion yesterday.


Rupee on spot contracts appreciate



The rupee on spot contracts was seen appreciating to a high of Rs.133.40 yesterday while the one month and two month forward contracts were seen closing the day mostly unchanged at levels of Rs.134.60/80 and Rs.135.60/70 respectively. The total USD/LKR traded volume for the previous day (12-05-15) stood at US $ 72.00 million. Given below are some forward dollar rates that prevailed in the market,


3 Months - 136.20/35

6 months - 137.95/15