By Wealth Trust Securities

The outcome of the two Treasury bond auctions conducted yesterday saw the yield gap between the primary market and secondary market widen further.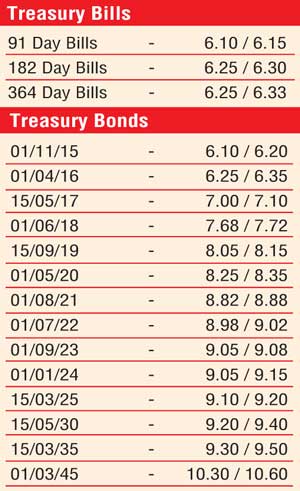 The 4.10 year maturity of 1 May 2020 and the 7.03 year maturity of 1 October 2022 fetched weighted averages of 8.20% and 8.57% respectively against secondary market quotes for similar durations of 8.25/35 and 8.98/02. The auction attracted total bids of Rs. 17.90 billion with Rs. 2 billion in total been accepted against its total offered amount of Rs. 10 billion.

In secondary bonds market, activity continued to remain moderate with the 1 July 2022 and 1 September 2023 maturities changing hands within the range of 8.98% to 9.00% and 9.00% to 9.06% respectively yesterday.

In money markets, overnight call money and repo rates remained mostly unchanged to average 6.12% and 5.84% respectively as surplus liquidity stood at Rs. 58.44 b yesterday.


Rupee appreciates

In Forex markets, the USD/LKR rate on spot contracts appreciated yesterday by 10 cents to Rs. 133.60. The total USD/LKR traded volume for 30 June was $ 32.79 million.

Some of the forward dollar rates that prevailed in the market were: three months – 135.25/35 and six months – 136.90/00.
---
Spot rupee firmer as State bank lowers dollar selling rate
Reuters: The rupee ended firmer on Thursday as a State-run bank, through which the Central Bank usually directs the market, sold dollars at 133.60, 10 cents lower from the previous session's close, dealers said.

The rupee ended at 133.60 per dollar, up from Tuesday's close of 133.70. Both currency and stock markets were closed for a holiday on Wednesday.

"The State bank sold dollars at a reduced price of 133.60," a currency dealer said.

"There is no big importer demand. But whether the Central Bank could sustain this appreciation trend is questionable because import demand could pick up due to lower interest rates."

Some dealers say the pressure on the rupee could build up again as exporters might stop selling dollars until the elections are over.

President Maithripala Sirisena dissolved Parliament on Friday and scheduled the election for 17 August, in an effort to consolidate power and push through political reforms, ending a months-long deadlock.

Depreciation pressure on the currency eased, dealers said, after Finance Minister Ravi Karunanayake said early last week the spot would climb 3% to a two-year high of 130 per dollar in two weeks.

Dealers, however, said that with the announcement of the elections, the rupee may not reach that level.

Three-month forwards ended a tad firmer at 135.30/40 per dollar, compared with Tuesday's close of 135.35/45, dealers said.