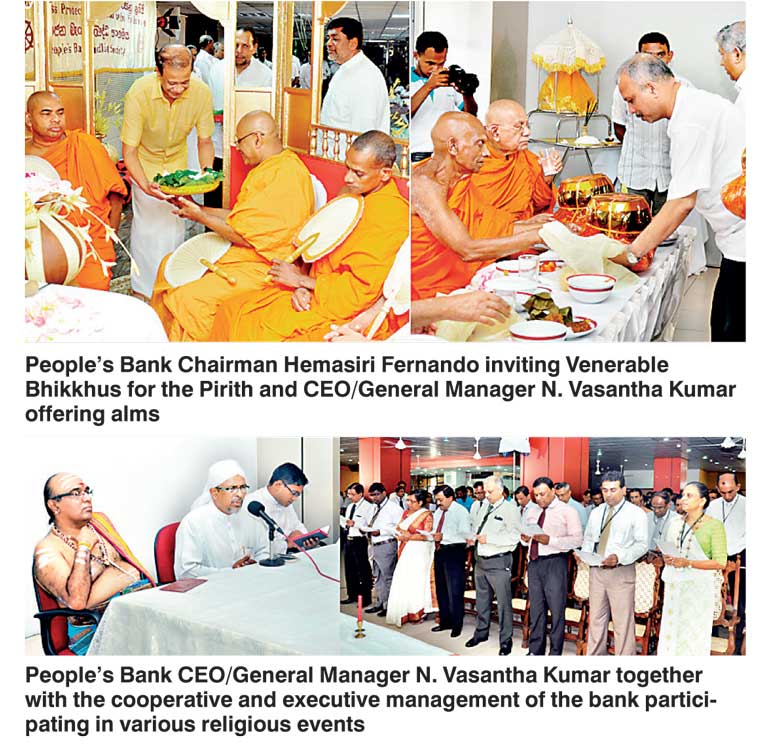 Celebrating 54 years of innovative banking in the country, People's Bank recently organised a multi-religious program at its head office with the aim of fostering religious harmony and understanding through the spirit of unity among its dedicated workforce. It was also held to invoke blessings on the nation and her people, pioneering leaders who laid the foundation for the bank's success, customers and well-wishers.

A series of multi religious ceremonies were held under the guidance of the People's Bank leadership including Chairman Hemasiri Fernando, CEO/General Manager N. Vasantha Kumar, Board of Directors, the cooperative and executive management and staff representing Buddhist, Hindu, Christian and Islamic faiths.

The Buddhist Society of the bank organised a series of meritorious events which were held during 10 and 11 July with an all-night Pirith chanting ceremony followed by an alms giving for Bhikkhus. The Pirith, alms giving were conducted by Buddhist and Pali University of Sri Lanka Vice Chancellor Ven Prof. Ittademaliye IndasaraThero.

The bank's Hindu Society, Christian Guild and Muslim Majlis also organised a series of religious events which took place on 13 July under the patronage of Sri nivasa Kurukkal, the priest of the Bambalapitiya Kovil who conducted the Hindu ceremony, Qari Faisal of the prominent Dewatagaha Mosque in Colombo who observed Muslim prayers while Rev. Fr. Anton Dinesh from the Aquinas University conducted prayers for the Christian faith.